Are you planning to begin blogging or want to increase organic traffic to your website?
The Search Engine Optimization (SEO) technique is mandatory for getting organic traffic to your e-commerce, service, blog, or any kind of website.
SEO looks complex but it is not that difficult if you gain proper knowledge and implement it correctly on your website.
You can get enormous organic traffic if you succeed to rank your website content on the first page on the SERP (Search Engine Result Page). So, what it takes to master SEO?
There are various steps to implement SEO on your website that includes On-Page SEO, and Off-Page SEO. Today we will be focusing on the On-Page SEO, and learn about keyword research which is the most important part of implementing SEO.
You will find lots of free and paid keyword research tools in the market. Paid keyword research tools like Ahref, Semrush costs over $100 monthly which are expensive for beginners so, we will explore the top 5 Free Keyword Research tools trusted for SEO.
Let's get started…
TOP 5 BEST FREE KEYWORD RESEARCH TOOLS
Google Keyword Planner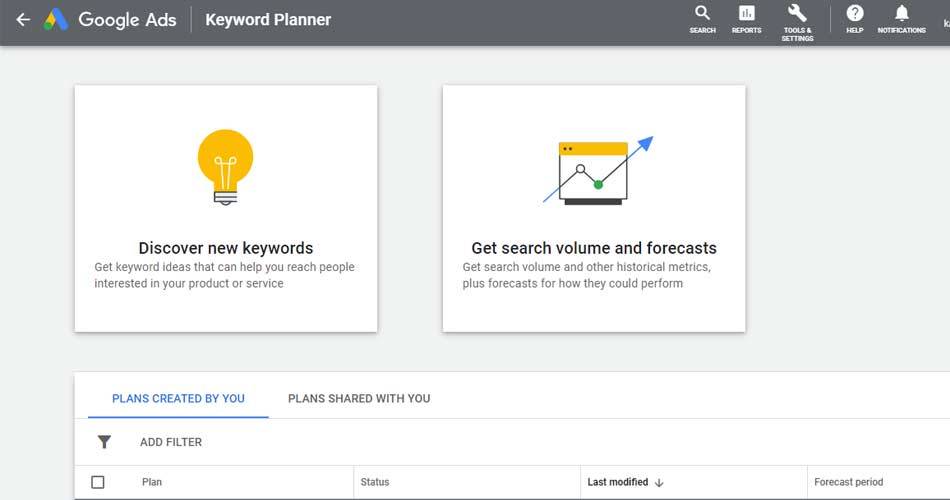 Google Keyword Planner is one of the best free keyword research tools offered by Google Ads. This tool assists you in researching keywords for your search campaigns and you can use it for your SEO strategy.
You can utilize the Keyword Planner to discover new keywords related to your niche, business and monitor the number of searches they receive, and the estimated cost per click. In addition, the tool allows in-depth keyword research by filtering the countries and selecting multiple keywords at once.
Some key advantages of the Google Keyword Planner are:
Discover new keywords
You can easily discover new keywords based on the location related to your website niche, product, services, blog, and so on.
Visualize monthly searches
The Keyword Planner gives a range of monthly searches for a keyword you select. For instance, if you search for Digital Marketing Keyword with a location in the United States, the tool estimates around 10k-100k monthly searches.
Organize keywords
The free tool also allows you to organize your keywords into different categories related to your website niche, brand, business, and much more.
Cost Estimation
If you own a business and want to target a specific keyword for advertisement, the Keyword Planner displays the average cost for your ad. This average cost is the cost per click if you own a blog and monetize with an advertising platform.
Create campaigns
The Keyword Planner allows you to create new campaigns based on in-depth keyword research.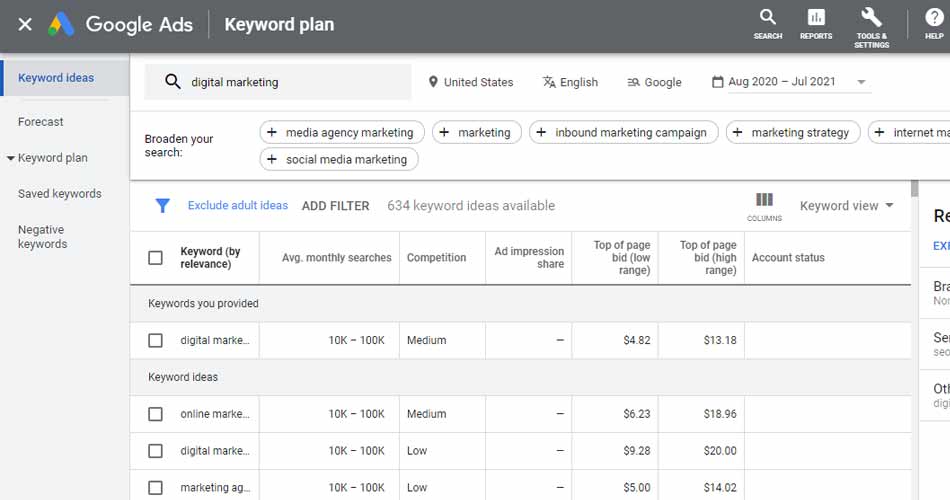 How to use Keyword Planner?
Here are the steps you need to follow to use Google Keyword Planner:
#Step 1 Login to the Google Ads. If you are new then click the Start Now button on the homepage, and follow the instructions.
#Step 2 After completing all the requirements, go to the tools and settings section where you will find the Keyword Planner tool.
#Step 3 There are two options available: Discover new keywords and Get Search Volume and forecast. You can choose as per your requirement and conduct keyword research.
Google Keyword Planner Pros and Cons
Pros
Displays keyword search volume
Displays average cost
Cons
Doesn't show long-tail keywords
Doesn't show exact search volume
Ubersuggest Free Plan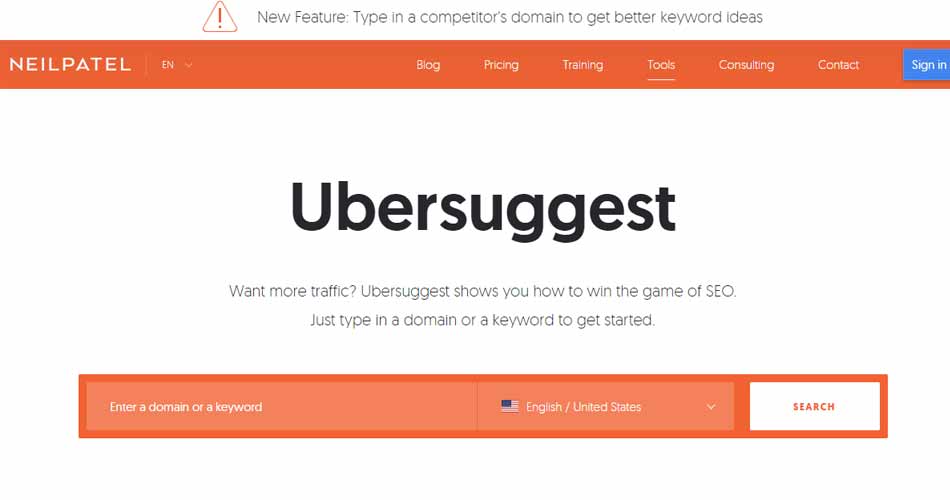 Ubersuggest is another popular keyword research tool owned by digital marketing entrepreneur Neil Patel. This is a paid tool, however; it provides a free plan with daily limitations. You can add your website and the tool analyzes SEO for free. In addition, you get 3 daily searches with the Ubersuggest free plan.
The key features provided by the Ubersuggest are:
Keyword Analyzer
The keyword Analyzer feature contains functions like Keyword Overview, Keyword Ideas, Keyword Lists, and Content Ideas.
The keyword overview feature shows the search volume, search difficulty, paid difficulty, and Cost-per-click (CPC) whereas the keyword ideas display all the relevant keywords related to the main keyword.
One of the interesting and useful features is the Content ideas where the tool suggests the relevant content ideas related to your keyword research. The keyword lists feature allows you to group different keywords as a category and acquire collective data.
Competitive Analysis
Another important feature offered by the tool is the competitive analysis that includes traffic overview, keywords by traffic, top pages by traffic, and similar websites.
In the traffic overview panel, you can get a detailed overview of any website you enter to identify their traffic and best strategies. The Keywords by Traffic panel shows you the top keywords your competitor ranks for.
With the top pages by traffic feature, you can Enter the competitor's domain and hit "Search" to find the content pieces that got the most social shares and Google traffic. The similar websites tab displays the relevant websites as per the domain you enter.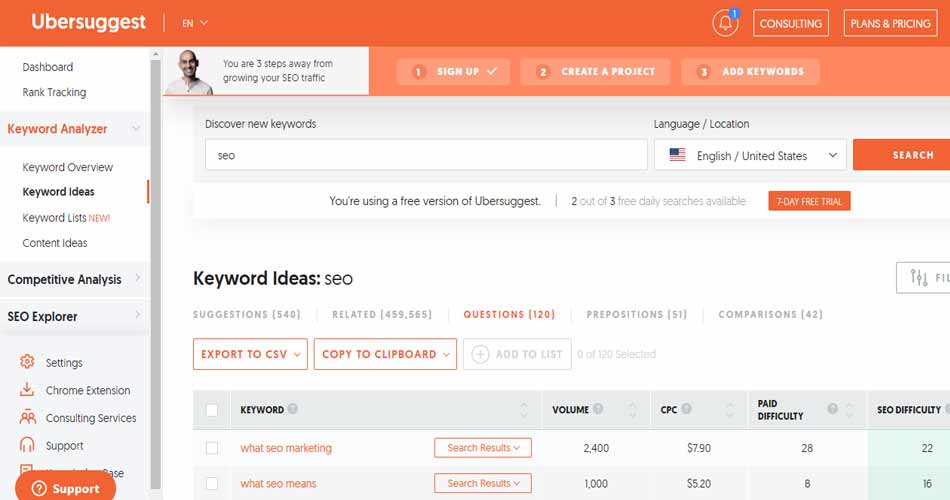 SEO Explorer
The SEO Explorer is also an important feature provided by Ubersuggest as it holds important tasks like SEO Analyzer, Backlinks, and Backlink Opportunity.
The SEO analyzer analyzes your website and displays monthly traffic, keywords ranking, number of backlinks, and On-Page SEO score. Besides, it also informs SEO issues and displays page speed on mobile and desktop.
The Backlinks show the total number of backlinks your website holds whereas the backlink opportunity assists you in finding probable backlink opportunities.
Rank Tracking
Rank Tracking is the most useful feature of the Ubersuggest tool as it allows you to track keywords. With that, you can know how your keywords are performing on the SERPs.
How to access Ubersuggest Tool?
It is simple to use the Ubersuggest tool for free. Just sign in with your Google Account, and you are good to go.
Ubersuggest Pros and Cons
Pros
Offers various SEO features
Cons
Free plan has a limitation of 3 daily searches
Google Trends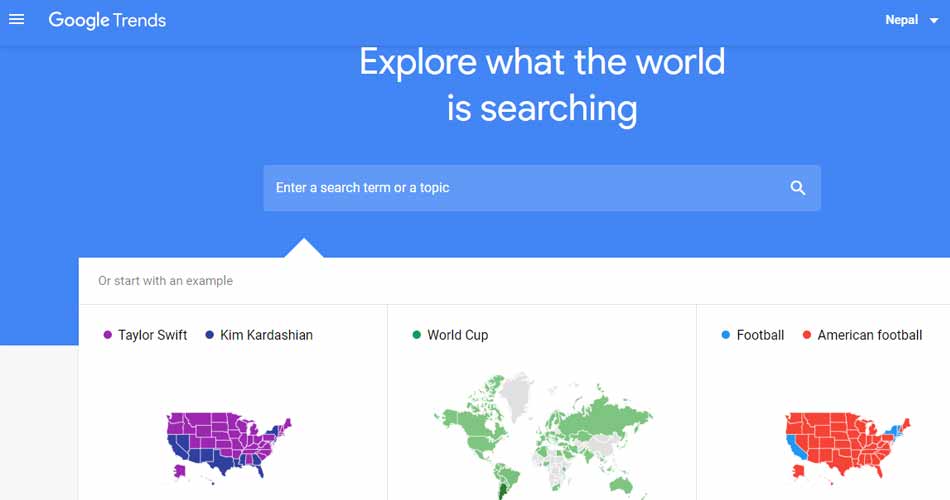 Google Trends is a website owned and operated by Google that analyzes the popularity of top search or trending queries in Google Search across various regions, and languages. It displays graphs to compare the search volume of various queries and keywords over time.
It is a free data exploration tool that lets you explore the trending keywords in real-time with which you can acquire enormous traffic to your website by publishing content.
Google Trends uses a technique to show how frequently a given search term is entered into Google's search engine. It also allows to compare keywords and find powerful ones.
You can analyze the popularity of keywords in the tool with various customization like region, time frame, categories, web search, image search, YouTube search, news search, and Google Shopping.
Some key features of this free keyword research tools are:
Find keyword trends overtime
Google Trend allows you to find the trend of keywords for the past 5 years, 10 years, or any custom period you wish.
Graphical representation
The tool offers a meaningful graphical representation of the popularity of any keyword you enter.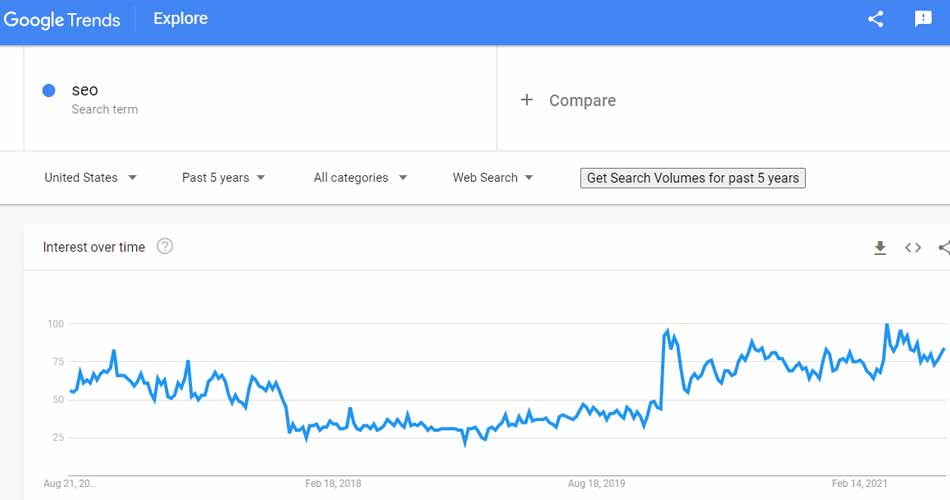 Interest by Subregion
If you enter a keyword for the United States then Google Trends displays interests based on the Subregion like New York, Kansas, New Jersey, and so on.
Related Topics
Google Trends also shows the related topics with percentages relevant to the keywords you prefer.
Related Queries
Another important feature of the tool is the related queries which display trending queries related to the searched keyword.
How to access Google Trends?
You need to log in with your Google account to access Google Trends.
Google Trends Pros and Cons
Pros
Shows keyword trends
Shows data graphically
Cons
Doesn't show keyword volume
Doesn't display cost estimation
Semrush Free Option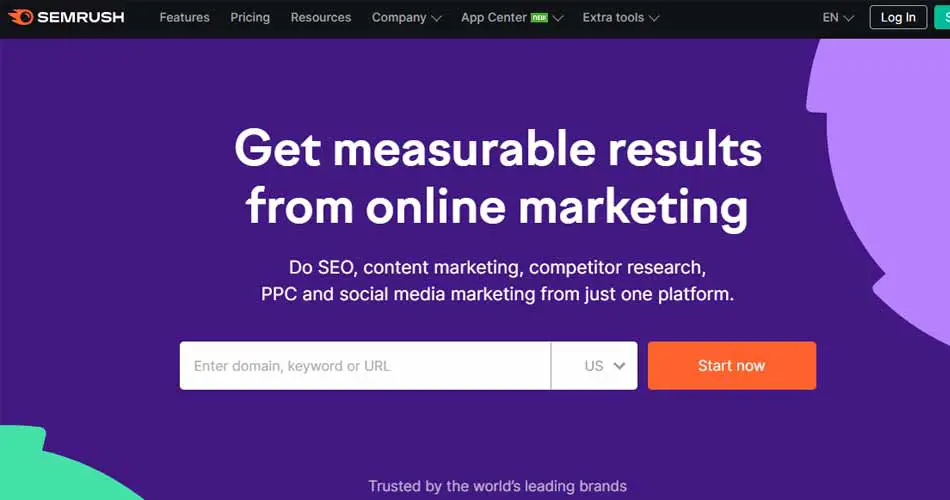 Semrush is one of the popular and trusted SEO tools available in the digital market. It is also a paid tool but offers a free option with limitations so, we have enlisted this tool in the best free keyword research tools.
Semrush is an all-in-one tool for various projects including SEO, PPC, SMM, Keyword Research, PR, Competitive Research, Content Marketing, Campaign Management, Marketing Insights, and much more.
Some important features of the Semrush tool are
Keyword Research
You can discover all the best keywords to target and drive traffic to your website. The keyword research tool displays the search volume, keyword difficulty, cost-per-click (CPC), related keywords, and much more depending upon the regions you choose.
On-Page SEO
The On-Page SEO feature audits your pages and provides ideas to improve the SEO performance and overall health of your website.
Competitor Analysis
Knowing your competitor is a must for increasing your website traffic. So, Semrush offers a competitor analysis feature to track your competitor's progress, know their strategies, and improve the performance of your website.
Local SEO
You can optimize your website for local searches and acquire more local visitors with the Local SEO function that holds 4 tools.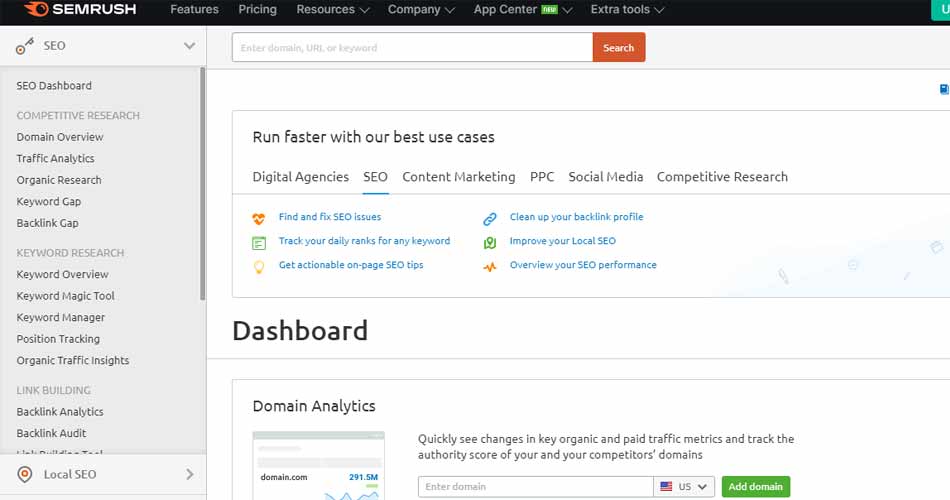 Backlink
Semrush allows you to find the backlinks and unexploited opportunities to strengthen your backlink profile.
Rank Tracking
You can track daily changes of your target keywords in your target location with the Rank Tracking feature offered by the tool.
Content Marketing
You can develop a powerful content strategy with data-driven solutions.
How to access Semrush?
Use your email or google account to sign in and you're ready to use the Semrush tool.
Semrush Pros and Cons
Pros
Shows keyword search volume with difficulty, CPC
Popular & Trusted tool
Cons
Free plan has limitations
Doesn't show accurate traffic data
H-Super tools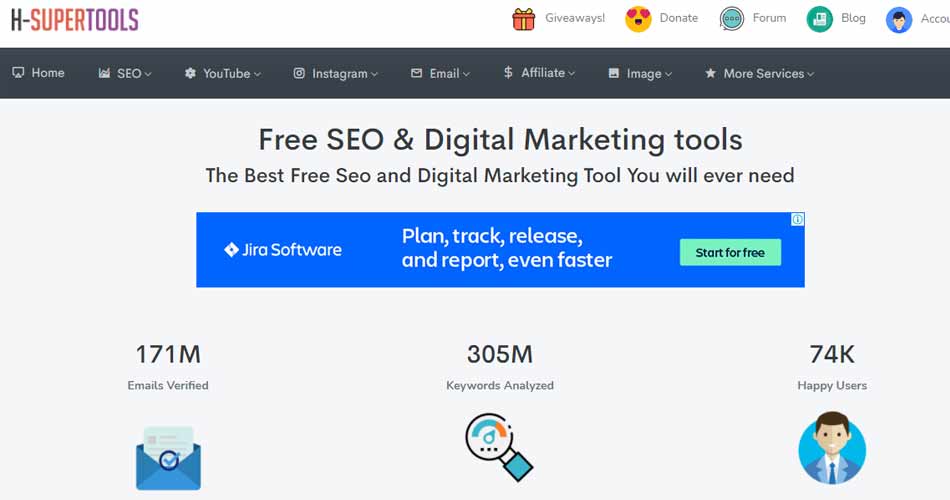 H-Super tools is a completely free keyword research tool developed by a digital marketing expert Hasan Aboul Hasan. This tool makes to our list of top 5 best free keyword research tools.
This tool offers various SEO features for free including SEO analyzer, Keyword Research Tool, Bulk Keyword Data Tool, and Question Explorer.
Key features of H-Super Tools are:
Keyword Research Tool
The Keyword research tool allows you to search keywords based on location and language along with options for deep search. You get monthly search volume, SEO difficulty, CPC, and Paid competition for your entered keyword. You can export displayed keywords to CSV for free.
SEO Analyzer
The SEO analyzer feature conducts a deep analysis of your website and displays site health, SEO issues, responsiveness, visitors, link analysis, and overall SEO aspects.
Questions Explorer
Questions Explorer is the important feature offered by the H-Supertools that allows you to find exactly what people are searching for on the internet, so you can know the best relevant content to create.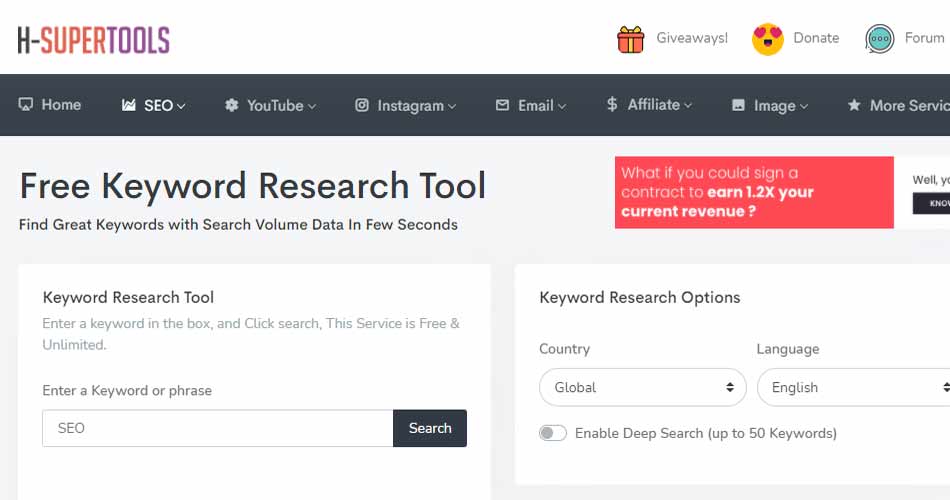 Bulk Keyword Research Tool
The Bulk keyword research tool allows you to type multiple keywords, and analyze in bulk.
How to access H-Supertools?
Accessing H-Supertools is the same as we discussed above. Just create an account with e-mail and get into the platform.
H-Supertools Pros and Cons
Pros
Completely Free
Various features like Questions explorer, Bulk Analyzer, and so on
Cons
Data may not be accurate
Deep search for only 50 keywords
Conclusion on free keyword research tools
All the free keyword research tools we discussed above are unique in their own ways. They offer lots of important features for free. Some of them are paid however, you can use them for free with limitations.
If you're a beginner and don't have the required budget to begin your SEO journey then, you can use these tools for free and scale up your business.
If you just want a keyword research tool, you can use Google Keyword Planner, and Google Trends. For advanced features, you can use the other free keyword research tools mentioned above.
I have used these free keyword research tools and acquired more than 100k monthly organic traffic so, what are you waiting for?