Technology has revolutionized our business activities today with the introduction of various technological advancements. Radio/TV marketing, billboards, printed advertisements, and other forms of physical marketing ruled the advertising industry for decades but things have changed now.
Marketers, entrepreneurs, or anyone running a business today require an active presence in the digital world to succeed. If they don't own a website, create a profile on social media platforms, and show a strong online presence, they lose out on lots of clients, revenue, and sales.
Digital Marketing is almost mandatory for every business today because it helps to syndicate service in various digital platforms including mobile phones, computers, tablets, and other electronic devices. People are spending lots of time on electronic devices, every single day.
In this article, we will get to know about Digital Marketing, what are the types of digital marketing, and the importance of digital marketing in our business. Let's get started…
What is Digital Marketing?
Digital Marketing, also known as online marketing, is the promotion of products, services, brands to connect with potential customs through the use of electronic devices and the internet.
The advertisement is delivered through digital channels like websites, social media pages, mobile applications, emails, search engines, and much more.
In simpler language, Digital marketing includes all those marketing activities that make use of electronic devices and the Internet. Sometimes, digital marketing can include offline activities too.
Let's dig into the question 'What are the types of digital marketing?'
Content Marketing
Content Marketing is one of the important types of digital marketing that emphasizes creating and distributing valuable content for a target viewer. This marketing is executed to drive a profitable customer action through the creation of high-quality, helpful, valuable, consistent, and relevant content.
Content marketing is a long-term strategy that allows you to build a strong relationship with your viewers/clients. Just you need to provide them with high-quality content that fulfills their intent and is relevant.
With content marketing, you are not only selling your products and services but also helping out people to solve their problems and promote your brand value.
Blogs, social media posts, videos, e-books, case studies, infographics, templates, e-brochures are examples of content that can be produced and distributed on the internet. Before making content, you must always ensure that you are about to cover what your audience wants to see so that, there will be a higher chance of purchasing decisions.
The main importance of Content marketing is that it enhances trust, builds brand awareness, and drives results as well as conversions. Your business can be known to more people after your great and helpful content gets shared and referenced.
If you are running a business, don't forget to write articles for your audience and optimize them with the Search Engine Optimization (SEO) technique. Providing trusted products, services and promoting them with high-quality content via content marketing is key to your successful business in the digital world today.
Search Engine Optimization (SEO)
Search Engine Optimization (SEO) is a powerful strategy to excel in the digital marketing world as it allows your content to rank on the top page of the Search Engine Result Page (SERP) of popular search engines like Google, Bing, Yandex, and more.
As per the stats, over 90% of online experiences start with a simple online search via the search engines like Google and Bing. SEO is the factor that enhances your presence in the SERPs and generates high-quality website traffic along with chances of higher conversion.
Anyone can apply SEO techniques to get quality organic traffic completely for free however, it may take some considerable time and effort to excel in it. If you manage to drive huge traffic to your website for free, your business will generate ample revenue. One thing to consider is you need to attract a high volume of visitors relevant to your products and services otherwise, the effort will result in nothing.
SEO includes creating high-quality content, optimizing a website, working on high-traffic relevant keywords, building backlinks, and getting free organic traffic. Not only these but there are also lots of other strategies to succeed in SEO like On-Page SEO and Off-Page SEO.
SEO requires technical as well as internet skills so, if you have it, you can work yourself otherwise, there are various digital marketing agencies offering SEO services.
Search Engine Marketing (SEM)
Search Engine Marketing (SEM) and SEO look somewhat similar because both of them deal with ranking in SERPs of search engines like Google, Bing, or Yandex. Though these two types of digital marketing show the same intention, they differ in some way.
SEO is all about generating huge organic traffic for free by ranking on the top pages of search engines however, SEM refers to increasing website traffic from search engines through the use of paid advertising campaigns. SEM is carried out via advertising platforms of search engines like Google AdWords, and Bing Ads.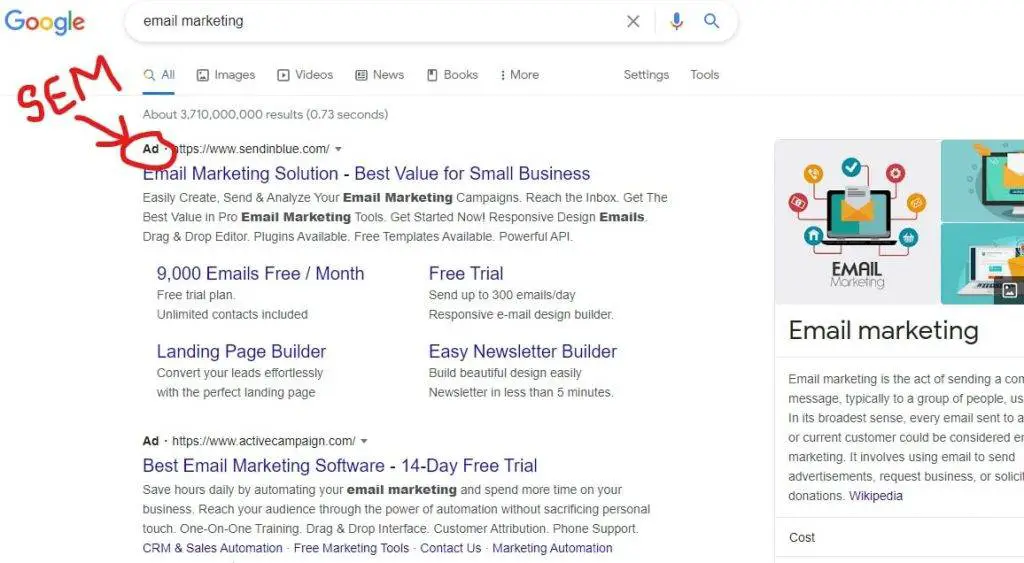 Digital Marketers can easily run SEM campaigns by putting ads on the SERPs and drive traffic to websites. The paid ads campaign under SEM shows up in the first position of SERPs above the organic search results with an "Ad" label that gives greater visibility and instant brand awareness.
The main advantage of SEM is that it is easy to create and can be customized to attract targeted audiences based on keywords, users' location, and other conditions. Besides, digital marketers can focus on competitor keywords and attract customers accordingly.
SEM and SEO are both valuable and irreplaceable so, marketers must use both to drive more search traffic to the website and increase conversions.
Social Media Marketing (SMM)
Social Media Marketing (SMM) is the strategy to drive traffic and attention through the effective use of social media platforms including Facebook, Instagram, Twitter, LinkedIn, and others. Digital media has been ruled by social media networks over the last decade, attracting millions and billions of active users around the world.
Running an effective social media marketing campaign has a higher potential of driving millions and billions of traffic to your website.
Facebook has 2.8 billion monthly active users
Instagram has 1.16 billion monthly active users
Twitter holds 353 million monthly active users
Just imagine how much traffic you can drive with the SMM strategy!
A successful social media marketing campaign refers to creating shareable, valuable content, and promoting it on social media platforms. Digital Marketers can post content on social media pages with links, buttons, and other information.
SMM can be carried out through paid ads, sponsored ads, and for free also. To run free campaigns, you need to have a huge following and engagement on your social media pages. The best option for the SMM is paid and sponsored advertisements.
For example, you can run advertisements through Facebook Ads, Twitter Ads, Instagram Ads and reach millions of people to promote your digital marketing business. The main advantage of these ads is you can target specific audiences based upon location, age, gender along with other features. Users after looking at your ads can respond or interact with reactions, comments, messages, and shares.
SMM is accessible and reasonable than SEM as small businesses can also afford it!
Pay-Per-Click Advertising (PPC)
Pay-per-click is the common type of digital marketing where digital marketers pay for the number of clicks generated from the advertisements. Simply, it is the process of purchasing visits to your website through the use of various advertisement platforms.
PPC looks similar to SEM as it is categorized under SEM umbrella however, it can also include display advertising based upon cost-per-click, advertising.
The main plus point of using PPC advertising is that you pay only when a customer clicks on your advertisement otherwise you pay nothing. The cost of click depends upon your industry and the keywords you target so; extremely competitive and high-value keywords can cost you more than $50 per click while some low-value keywords may cost you some cents only.
Email Marketing
Email Marketing is one of the most important types of digital marketing that allows you to promote your products, services, build trust, provide value, and receive feedback from your customers. It is all about building email lists, creating valuable email content, and engaging with your email subscribers.
Digital Marketer can use various software, tools to generate leads and run a successful email campaign. Newsletter, opt-in forms and other strategies can be used to collect emails from viewers coming to your website.
After collecting some subscribers, you can send out emails about launching your new product or service, opening new store, hosting programs, and much more. Make sure you are providing helpful content and value to your email subscribers.
Conclusion
What are the types of digital marketing? Did you get the answer?
There are lots of other digital marketing types but these 7 will cover almost a major portion of your online marketing campaign. Don't rush to try all these strategies at once instead choose a few and build your skills, experiment with them, and analyze the results.
Digital Marketing is simple but not easy either! You need some smart and consistent skills to become successful.
If you think you have the capability to run digital marketing yourself, go with it otherwise, seek help of digital marketing agencies and service providers. Popular digital marketing agencies are expensive for small businesses however, there are reasonable agencies too.