Email marketing is one of the powerful methods to increase traffic to your site and hence the sales and revenue. Online business can't be fully successful without the proper implementation of email marketing.
Whether you are a blogger, content creator, entrepreneur, businessman, or anyone wanting to excel in the digital world, you need email marketing to succeed.
Email marketing can be done in various ways. You can seek help from digital marketing companies, email service providers, or marketing experts. If you have the budget to spend then you can go with them otherwise you can begin your email marketing journey yourself.
In this article, we will explore all the details on 'How to do email marketing yourself'. So, let's begin…
How to do email marketing yourself in 2021?
Email marketing is somewhat expensive because you need to purchase services from marketing companies that vary in the number of subscribers and features. But don't worry, you can begin an email marketing campaign for free with limited features and expand afterward.
There are lots of email marketing services and software that allow you to run email campaigns for free. MailChimp, AWeber, SendinBlue, Drip, GetResponse, and many others provide an opportunity to begin email marketing campaigns for free. Likewise, there is lead capture software like Convertful which allows us to convert our users into new email subscribers or sales.
Today, we will discuss using Convertful to capture leads for free and integrating it with MailChimp to run successful email campaigns. That means this article will address the topic 'How to do email marketing yourself in 2023?'
Let's Begin with Convertful
There are three types of email marketing: Traditional Marketing, Bulk Mailers, and Cold E-mail Marketing.
Traditional Email marketing refers to collecting emails from websites with users' approval whereas Bulk mailers mean buying/collecting email lists. Likewise, cold e-mail marketing is all about sending emails with valuable content without prior permission from or contact with the recipient. It is done by carrying out some research on whether the recipient is likely.
Among these email marketing types; traditional or legal marketing is the best one, to begin with. It is carried out with proper permission from the users, viewers, or audiences. So, how can we collect emails from websites?
There are lots of email collecting software but we will explore Convertful which allows collecting emails for free but with some limitations.
How to get started with Convertful?
Step #1: Signup for free Convertful Account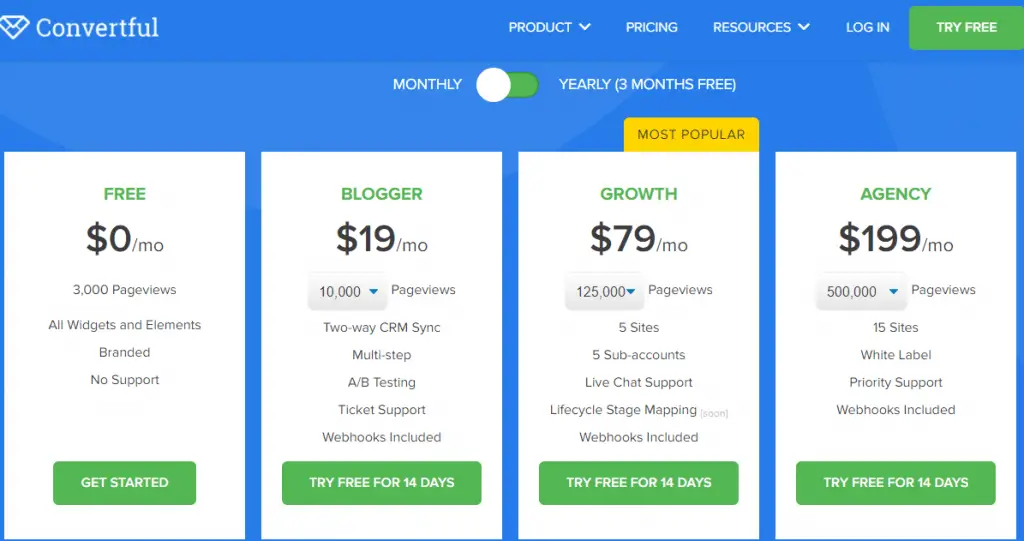 The free package of Convertful allows popups, scroll boxes, floating bars, welcome mats, inline widgets, and floating buttons to display for 3000 pageviews and allows you to collect leads.
Step #2: Add your website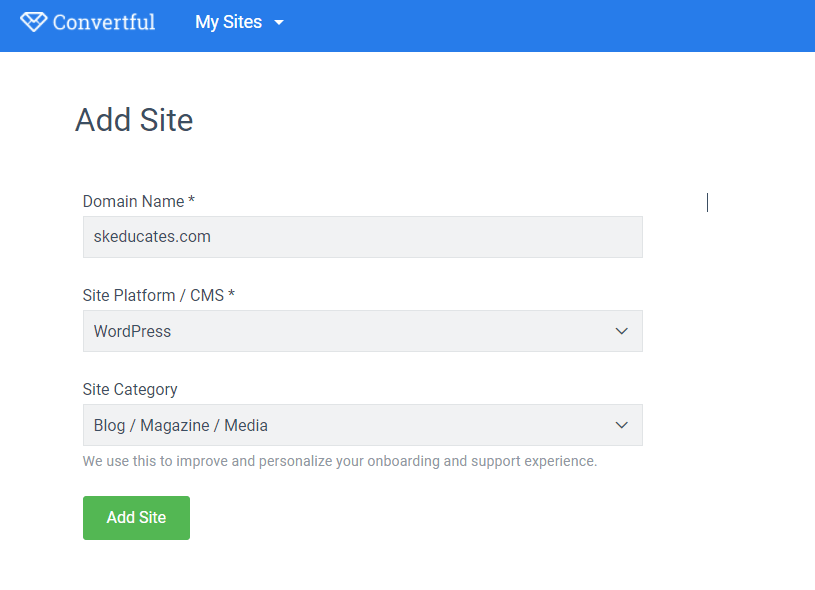 You will be asked to add a website after logging in the first time in the Convertful application. Type your domain name, select site platform/CMS, and site category.
Step #3: Install and Activate Convertful plugin in your WordPress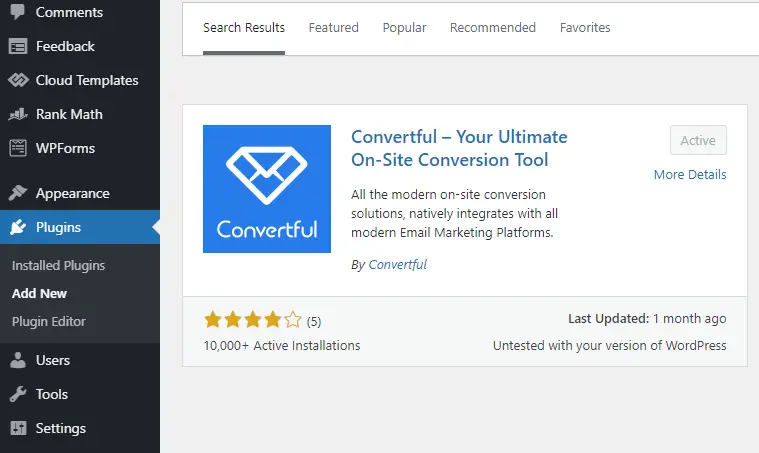 Go to your plugin section in the WordPress dashboard, search for 'Convertful' and install it.
Step #4: Connect the plugin to your Convertful account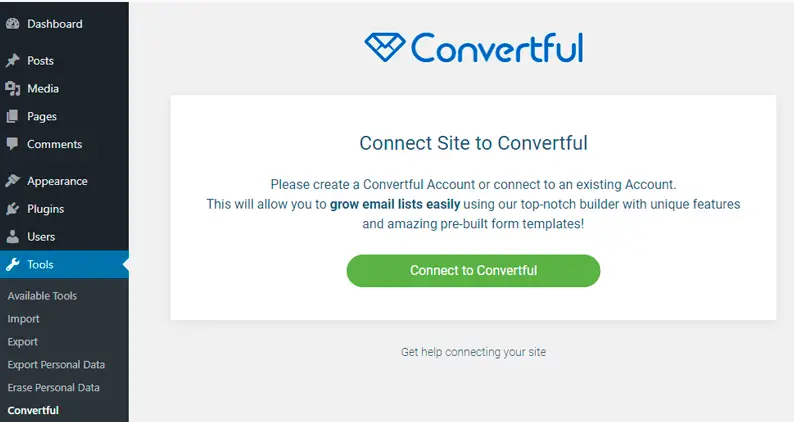 After installing and activating the plugin you need to connect to the Convertful account you created. Follow the instructions and your integration will be succeeded.
Step #5: Create New Optin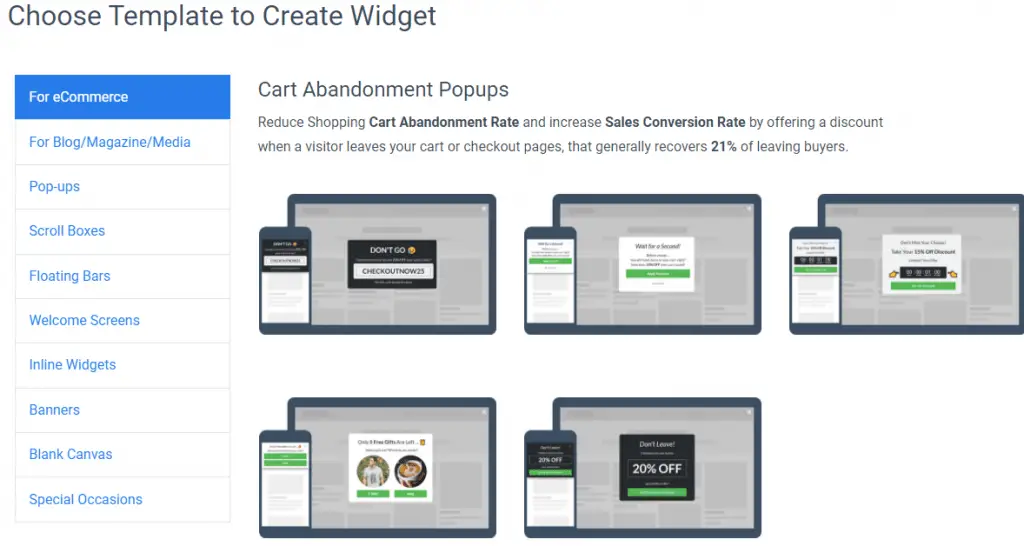 Once your account is integrated and ready, you can open the widgets section to start creating your first widget that may include pop-ups, scroll boxes, floating bars, welcome screens, inline widgets, and much more.
Step #6: Customize Widget design
You can easily customize your widgets with colors, sizes, elements, content, and other features with just a click on the side panel.
Step #7: Integrate with email marketing service like Mailchimp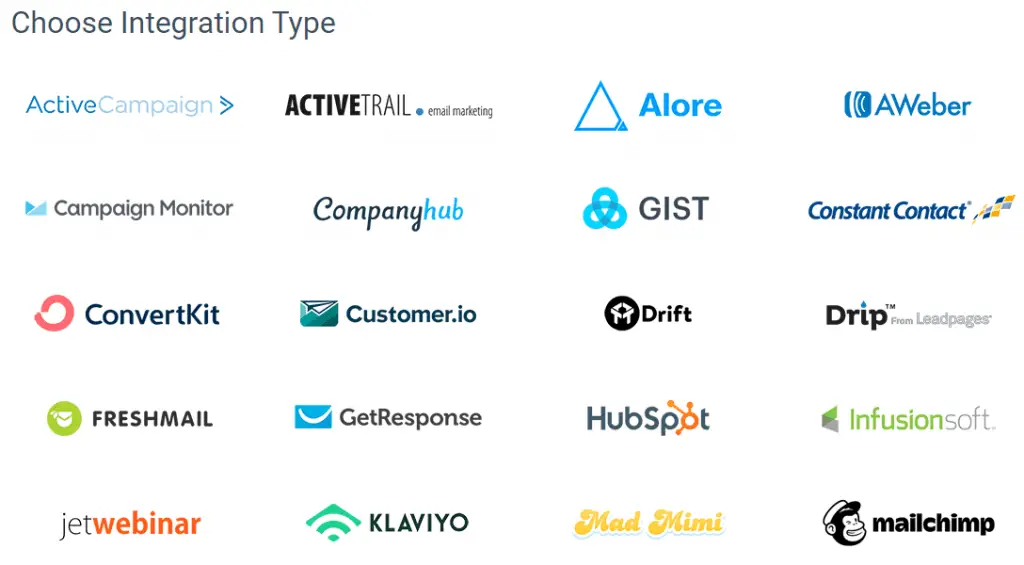 You can integrate Convertful with popular email marketing services like Mailchimp, Aweber, ActiveCampaign, Constant Contact, Drip, HubSpot, and much more. To integrate with Mailchimp, just select it from the list and you will get two options: Connect via account login or with API key.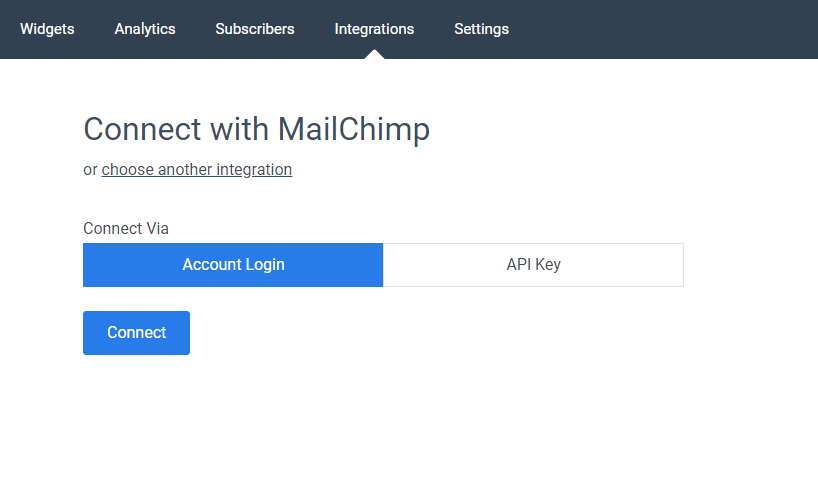 You can select connect via account login for easy integration. Before doing this, you need to create a free account in the Mailchimp platform which will be discussed below.
Step #8: Customize button's action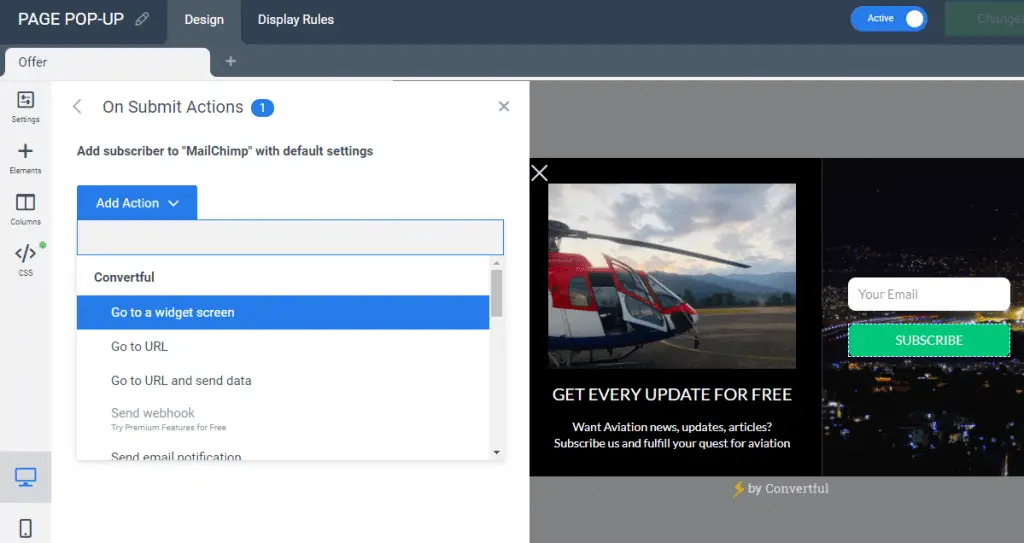 Click the submit button settings and select On Submit Actions. Here you can connect your selected integrations via the dropdown list.
Step #9: Customize Display Rules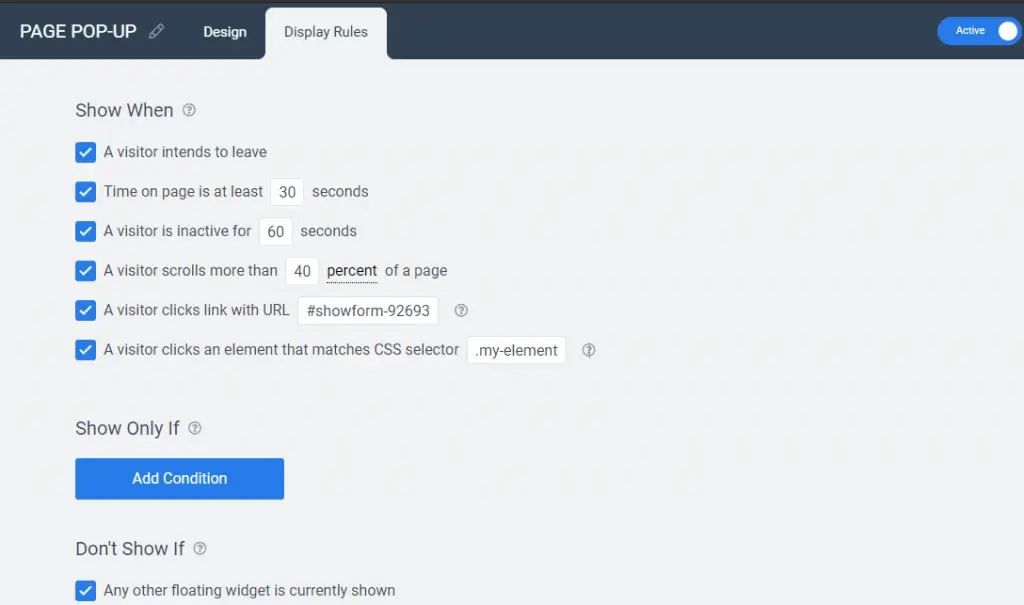 The Display Rules tab allows you to specify triggers and targeting conditions for how the widget should or shouldn't appear. You can choose to display opt-in forms when a visitor intends to leave, scrolls a specific percent of the page, spends a specific amount of time, and others.
After finishing the customization, don't forget to save changes and activate your widget.
Now that, you have already known to create opt-in forms and integrate with email marketing services like Mailchimp. In the next section, you will learn to create an email marketing campaign and execute it with Mailchimp.
How to run E-mail campaigns with Mailchimp?
Mailchimp is an all-in-one email marketing platform specially built for small and medium-sized businesses. It is easy to use and you can start for free today! The free version of Mailchimp allows you to add up to 2,000 contacts with 1 audience included and 10,000 monthly emails. Besides, you get features like Marketing CRM, Creative Assistant, Website Builder, Mailchimp domain, forms, and landing pages with the free version. Let's explore the various steps to get started with Mailchimp.
Step #1: Create free account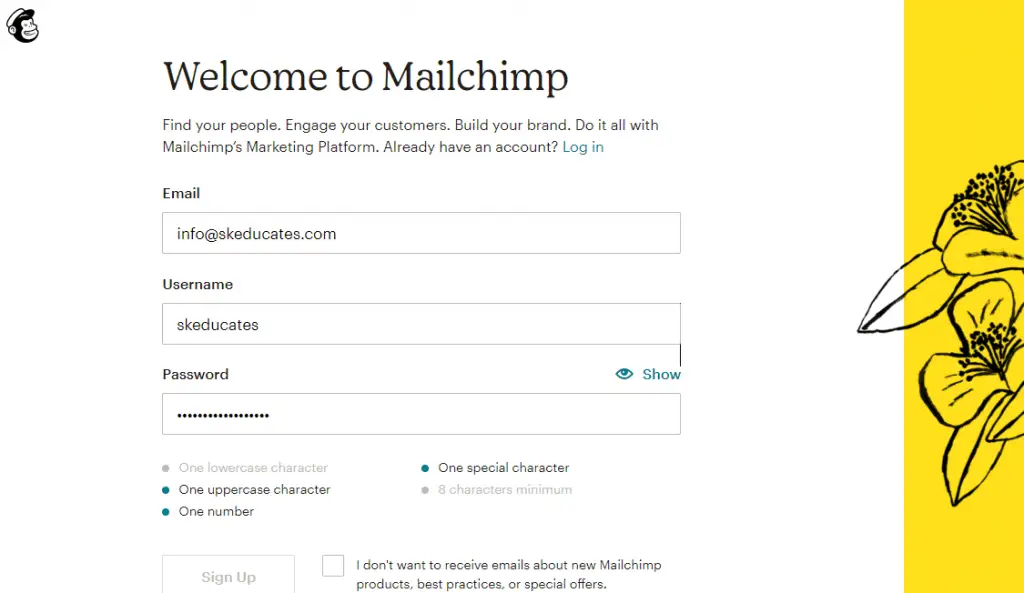 You can create your free Mailchimp account easily. Just enter your mail, username, and password to get started.
Step #2: Integrate with Convertful
You can integrate your Mailchimp account with Convertful for which you need to revisit Step 7 of the Convertful setup mentioned above.
Step #3: Create Email Campaign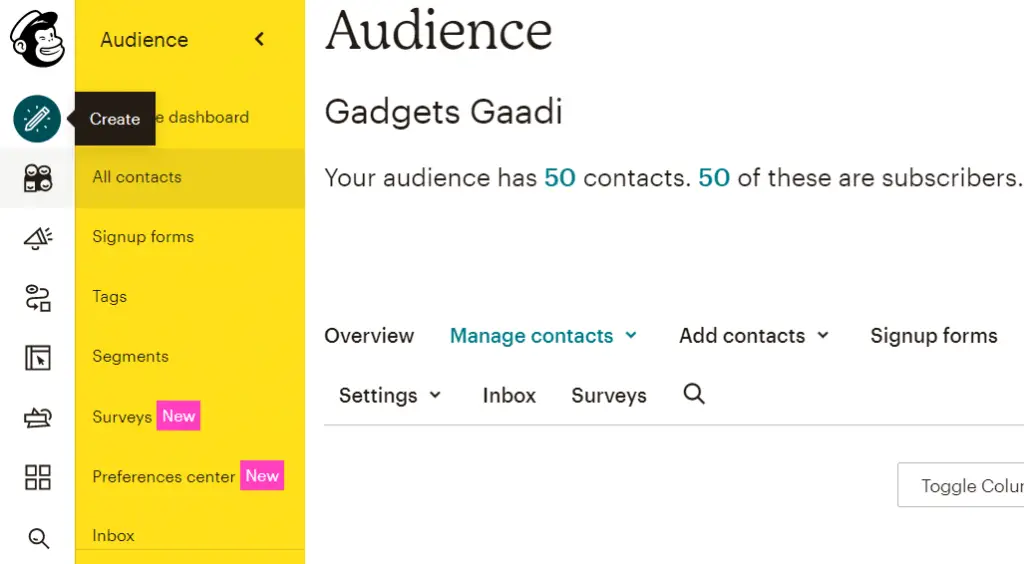 Click the create button on the side panel of the Mailchimp dashboard and select email or email template to get started. The email lists collected by the Convertful application from your website will be fetched to the Mailchimp account section directly.
Create a campaign name and proceed. After that, you will be sent to the campaign page where recipients can be selected, removed.
Step #4: Edit Recipients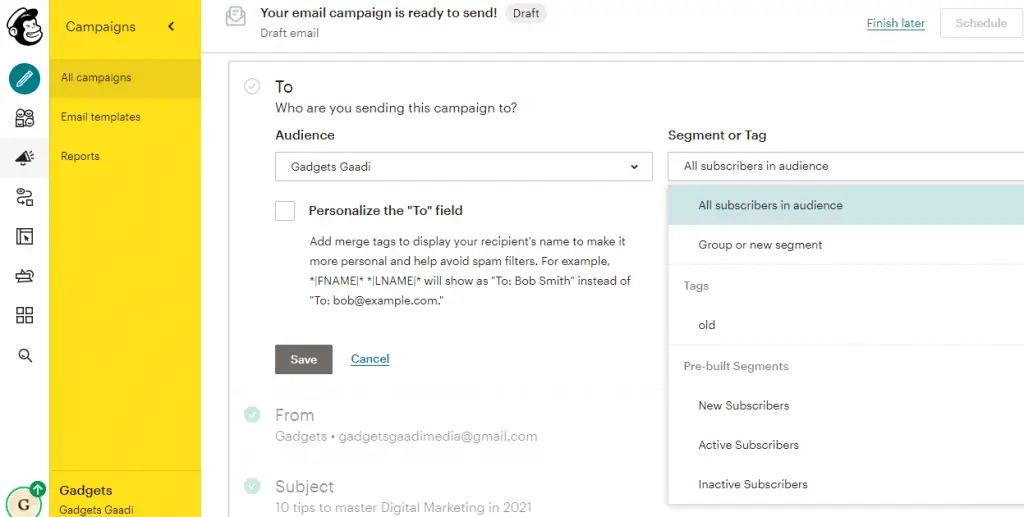 You can personalize and edit your audiences in the 'To' section. Also, you can choose a fixed number or grouped audiences also.
Step #5: Include name and email address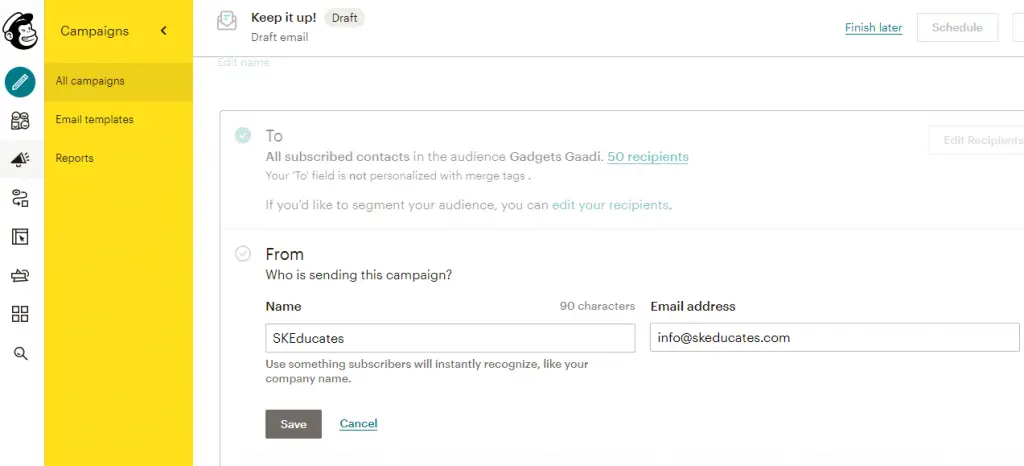 You need to enter your company name and email address in the From Section.
Step #6: Create an email subject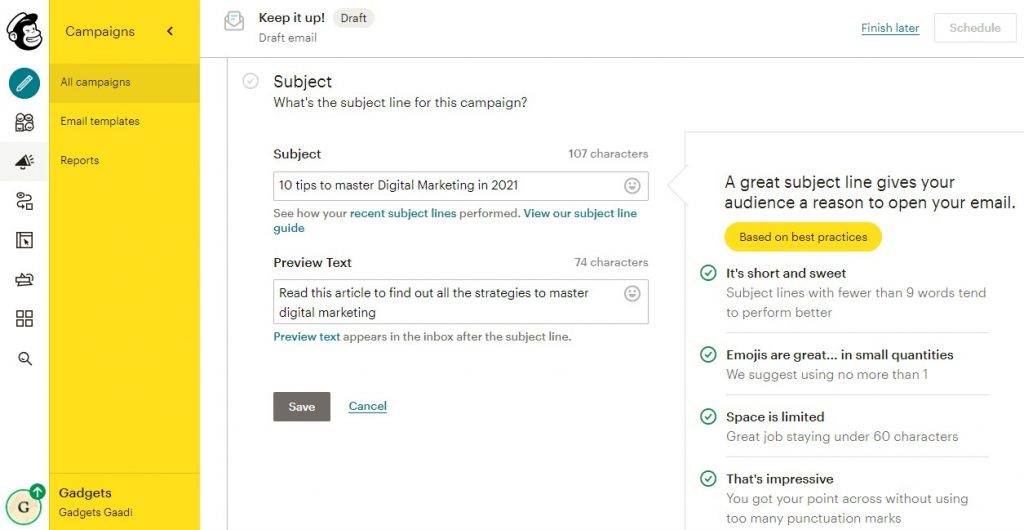 An email marketing campaign becomes successful with the creation of an attractive subject line. So, you must create one in the Subject section.
Step #7: Create Content for your email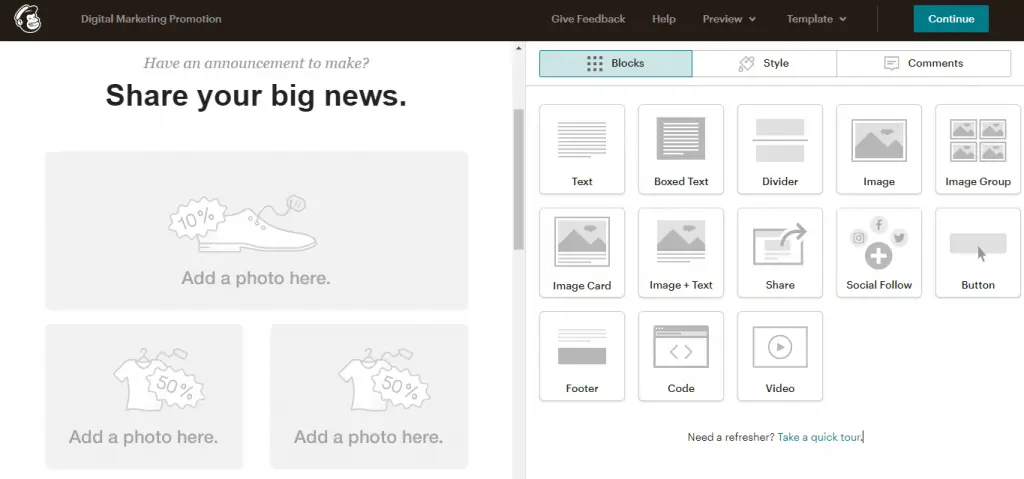 You can design your custom email content and also choose from a pre-designed template. Design your email content from the easy-to-use designer provided by Mailchimp.
After finishing the content design, press continue and you are all set to run your first email marketing campaign.
Step #8: Send a test mail to your email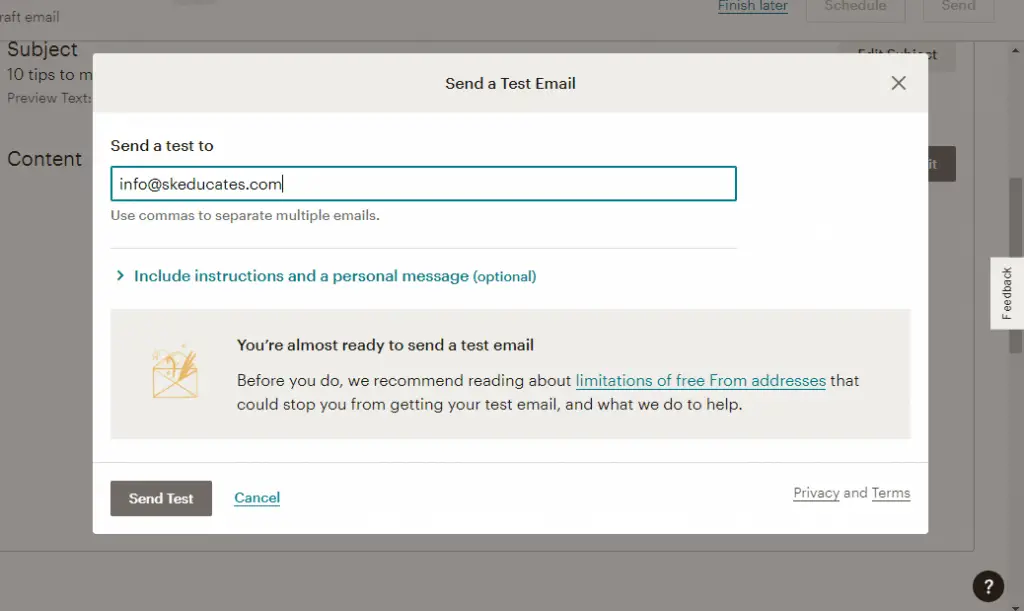 Always keep a practice of sending a test mail to your own mail address so that, you can identify and manage errors.
Step #8: Schedule or Send your email campaign
After completing all the requirements, you can schedule or quickly send your email campaigns from Mailchimp. The free version does not allow you to schedule your campaign so, you need to send it at the current time.
Congratulations! You have run first email marketing yourself.
Verdict on Convertkit and Mailchimp
Convertkit is a software that allows you to capture emails whereas Mailchimp allows integration with it and send email campaigns. Both these services offer a free version so, you can get started with the email marketing campaign today for free.
Free Convertkit account allows opt-in forms to display on your website for 3000 pageviews only. Likewise, Mailchimp allows you to add up to 2000 contacts and send up to 10,000 emails per month.
CONCLUSION
Email marketing is mandatory for your blogging, content creation, and any other digital marketing career. Missing email marketing strategy means losing lots of audiences, sales, and revenue. So, what are you waiting for? Begin your email marketing journey from today with the steps mentioned above in the article.
Don't worry about the premium and expensive email marketing services, just begin with the free options and build your skills. After some improvements, you will find out various ways to master the email marketing campaigns.