Hostinger Premium Shared Hosting Review based on my experience
I have been using Hostinger Premium Shared Hosting for a quite long period now. If you are also planning to use Hostinger Hosting for your blog sites, e-commerce sites or any kind of website, you can read this full review where I will share my personal experience.
I purchased Hostinger Premium Shared Hosting at a reasonable cost during the Black Friday deal. This hosting plan allows you to add up to 100 websites.
So, how well does the Hostinger Premium Shared Hosting plan perform? What is the uptime and how good or bad is the support service? Let's find out every detail in this informative review blog.
About Hostinger Premium Shared Hosting
There are various hosting plans offered by Hostinger such as web hosting, cloud hosting, WordPress hosting, cPanel Hosting, VPS Hosting, CyberPanel Hosting and much more.
Among these, I preferred to choose the Premium Shared Hosting plan for my blog websites. At present, I have three blog websites and one tool website running well on this hosting plan.
The Premium Shared Hosting offered by Hostinger is currently priced at US$2.99 per month. This is an offer price and the original price is $11.99 per month. Talking about the renewal, it will cost you $6.99 per month. This pricing can change after the end of offers.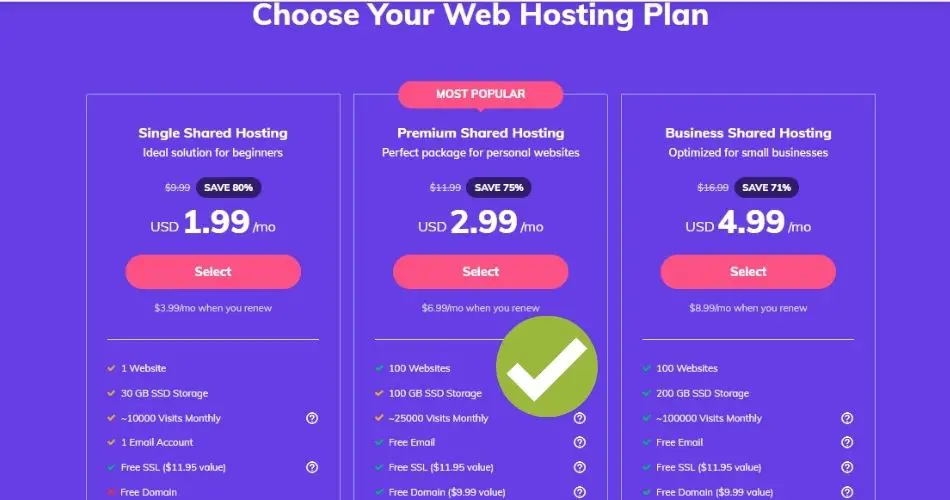 The major benefits of this hosting plan are:
You can add up to 100 websites and the storage offered is 100 GB.
It can handle 25,000 visits per month and it can also depend upon resource usage and optimization.
You will get Free Email, Free SSL, Free Domain and Google Ads Credit with the premium shared hosting plan.
If you are planning to use a WordPress website, you will benefit from Managed WordPress, WordPress Acceleration and Unlimited Bandwith.
You will also get 30 days money-back guarantee.
There are more benefits and features which you can find on the Hostinger official website.
We have discovered some basic information on Premium Shared Hosting Plan offered by Hostinger. Now, let's find out the performance and review of this hosting plan based on my personal experience.
First of all, let's go with the hPanel feature.
Hostinger Premium Shared Hosting Review (2022)
What is hPanel?
You may be familiar with cPanel on other hosting platforms. Hostinger has its own website and server management interface known as hPanel. This interface is like cPanel but is designed with Hostinger customization and offers unique features than cPanel.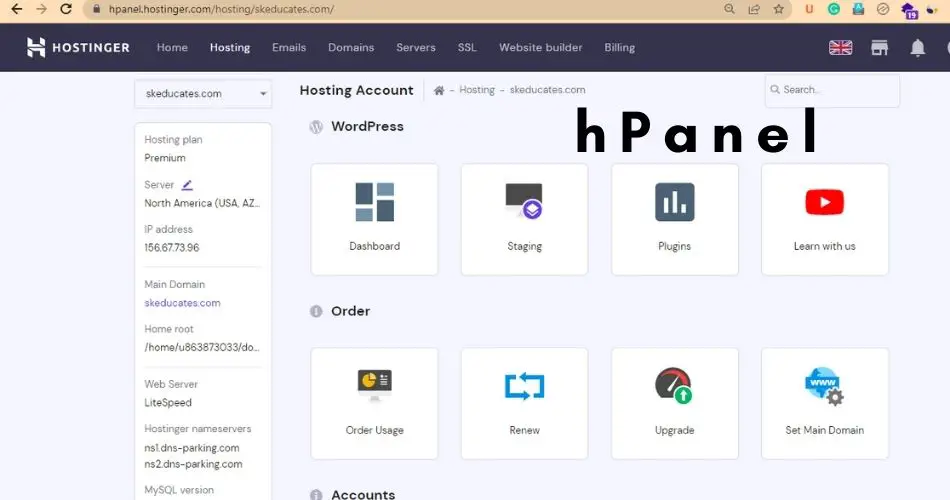 Some key features provided on hPanel interface are:
WordPress features including Dashboard, Staging and Plugins
Order management including Upgrade, Renew and Order Usage
Account Details
Titan Email Control Panel
Domain management
Digital Marketing and SEO Toolkit
Business Service
File Manager and Backups
MySQL Databases and phpMyAdmin
PHP Configuration and much more.
With these awesome features, users can easily set up and manage their multiple websites. In addition, the hPanel interface is comfortable to use in comparison to cPanel.
With that, let's talk about uptime.
How is Hostinger uptime performance?
Do you know what is uptime? If not, it is the amount of time that a server has stayed online and running. This is crucial because your visitors might not access your website and you may lose sales, conversions or visits.
In the case of Hostinger Premium Shared Hosting, you will get almost 99.9 per cent uptime which is guaranteed by the company. In my experience, I haven't received any uptime issues with Hostinger till the time of writing this article.
I would like to remember a small issue when my 4 websites went down for almost 15 minutes. I immediately contacted Hostinger support but later found out the issue was with the Cloudflare integration.
Keeping that aside, you can expect a good uptime performance with Hostinger.
You must be wondering about the speed and overall performance of websites hosted on Hostinger.
Website Speed and Performance with Hostinger
Before pointing out the website speed offered by Hostinger, I would like to aware that you must not expect top-level speed with the shared hosting plan. This is due to sharing of resources among various users.
Having said that, the Premium Shared Hosting plan offered by Hostinger doesn't compromise the website speed. You will get an average speed with this plan and you can boost the performance with some technical tweaks on your site.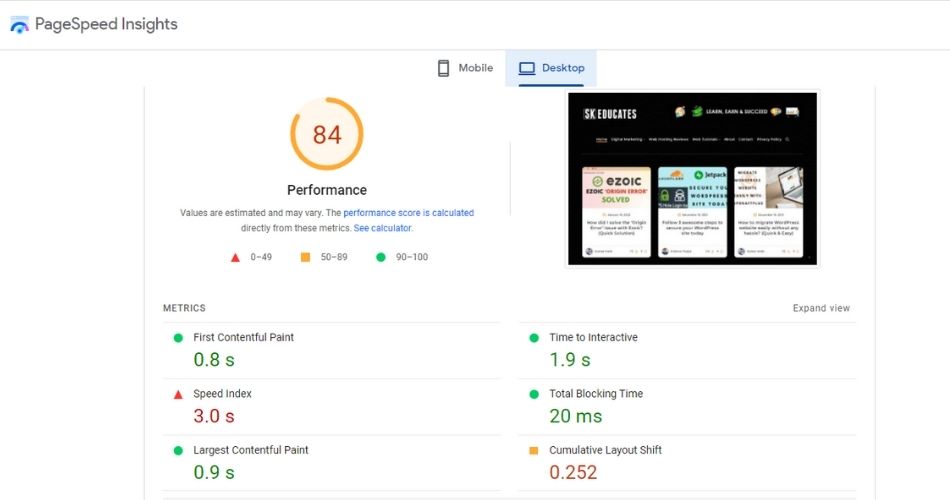 You can see the PageSpeed Insight report of our website hosted on Hostinger. The Desktop Performance is 84 which is great. Talking about the mobile score, it is only 40 as of now because I haven't applied optimization like caching, JS Minify, Image Compressing, and much more.
If you can optimize your site with technical improvisation, your site can become faster even with the shared hosting plan. In the case of WordPress sites, you can use various free and paid plugins to optimize your site for optimum speed.
For custom websites, you may require hiring professional programmers for overall optimization if you don't have technical competency.
Till here, we discovered features of premium shared hosting, hPanel interface and website speed. Now, it is time to know about Hostinger Customer Service and Support.
Is Hostinger Customer Service and Support reliable?
I haven't had enough issues to contact Hostinger Customer service however, I contacted the support service once in my whole journey with Hostinger Premium Shared Hosting Plan. It was when my 4 sites went down for almost 15 minutes.
Once it happened, I immediately contacted the support team via email. You can report your issues to the team via two ways: Email and Live Chat. In my case, Live Chat wasn't available at that moment so, I filled out the form and submitted it.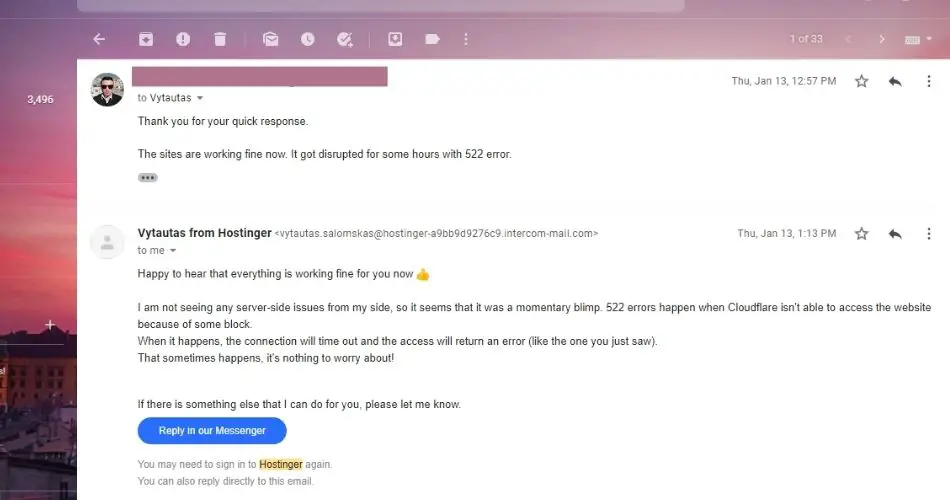 And I was completely satisfied when one of the members of the Hostinger Support team reached out via Email within 30 minutes clarifying the issue. The issue was solved in no time and I thanked the technical team for the quick response.
Based on this experience, I can confirm the support provided by Hostinger is great and you won't be left behind in any cases.
Final Verdict
Till the end of this review article, I tried to present my overall experience on using Hostinger Premium Shared Hosting Plan. This review is totally based on the performance of my 4 sites with the Hostinger and it might contradict others.
However, I would like to suggest testing this hosting plan because you have the option of a 30-day money-back guarantee. Buy the plan, use it for your sites and analyze performance for 30-days. If you feel satisfied, continue with the hosting plan otherwise request a refund.