How to start a YouTube Channel for beginners? Know all the requirements…

Starting a career in a video streaming platform is a good idea that requires skills, dedication, and consistency. Video creators are making good money by producing high-quality content and monetizing it with the video streaming platform. Not only advertisements, but creators are also making money through paid promotion, selling merchandise, and much more. YouTube, the second-highest search engine after Google, is the best video-sharing platform that allows users to publish their video content and earn through advertisements. So, what it takes to start and run a YouTube Channel successfully??
In this article, we will explore all the information related to opening YouTube channels, producing content, monetizing, and much more. Let's get started with how to start a YouTube channel for beginners (2023)…
YouTube Channel ideas for beginners
A YouTube Channel must be opened with intention of providing high-quality and valuable content to the viewers so, content creators must choose their niche to get started. If you have knowledge and skill in any niche may it be an automobile, aviation, online money making, fashion, comedy, entertainment, education, vlogging, etc. then, you can run your channel with your expertise. If you are unsure, search for a profitable niche and get started with it but you must keep in mind that the niche you selected must fascinate and encourage you to create valuable video content.
People also prefer to publish multi-niche videos on their YouTube Channel. Although it is a good idea (if you have knowledge of all niches), it may hamper the identity and quality of your channel. So, focus on your topic and grow your channel successfully.
The golden rule on how to start a YouTube Channel for beginners is focusing on creating valuable and appealing content for viewers rather than trying to beat the YouTube system.
Equipment for starting a YouTube Channel
Quality video contents require quality equipment however, you can start YouTube Channel even with your smartphone. Many successful YouTubers started their journey with low-quality cameras and smartphones. That's why expensive gadgets, computers, laptops are not mandatory but you can upgrade equipment once your channel starts getting ample views and revenue. On the other hand, you can start making quality videos with good equipment if you have some amount to invest.
So, the beginner option for producing YouTube videos is making use of smartphones, normal video editing software, green screen, and so on.
Steps to Create a YouTube Channel
There are various steps for creating a YouTube channel but don't worry as it is simple. Following are the steps you need to follow for creating a new channel successfully.
(Step 1) Signup for Gmail account
Gmail account is compulsory for creating a YouTube channel so, you must create one before getting into YouTube. If you already own a Gmail account you can move to the next step otherwise, you need to open Gmail in a web browser and create a new account.
(Step 2) Sign In YouTube with Gmail
After creating a Gmail account, head over to YouTube and sign in with the Gmail account. After signing in, go to the YouTube settings in the top right corner section and click 'create a YouTube Channel'.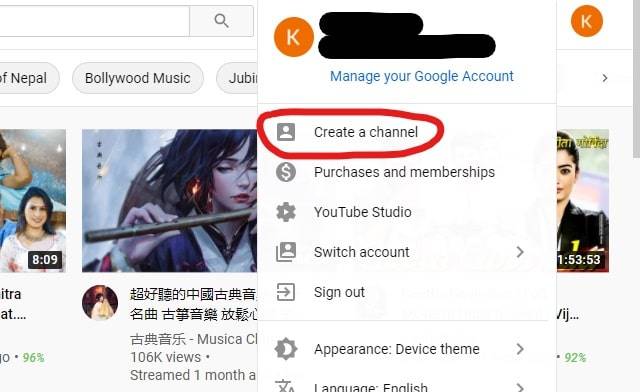 (Step 3) Name your YouTube Channel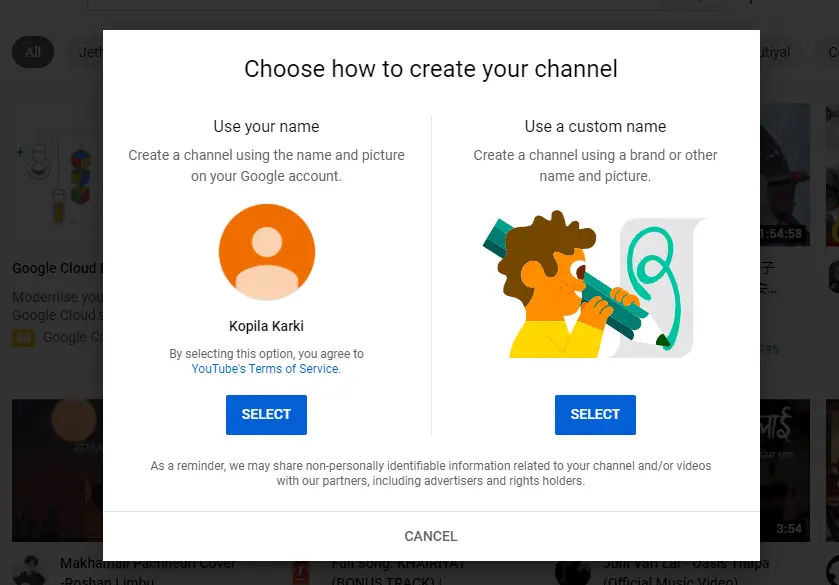 You can use your personal name or any custom name for the YouTube Channel. If you wish to make yourself the brand of your channel, continue with your own name else use a custom name that is suitable for your business or brand.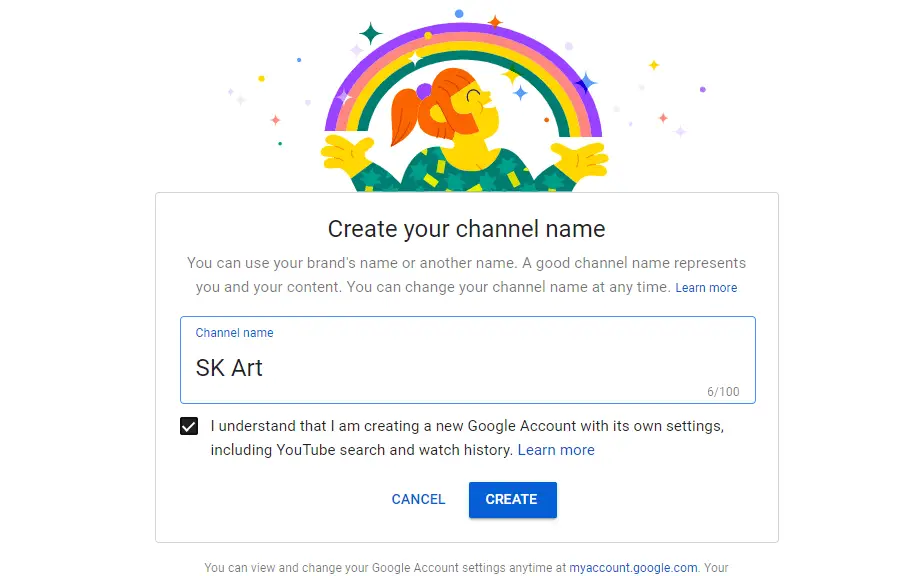 After naming, your YouTube Channel is successfully created and you can move forward with other steps like adding profile image, banner, watermark, and so on.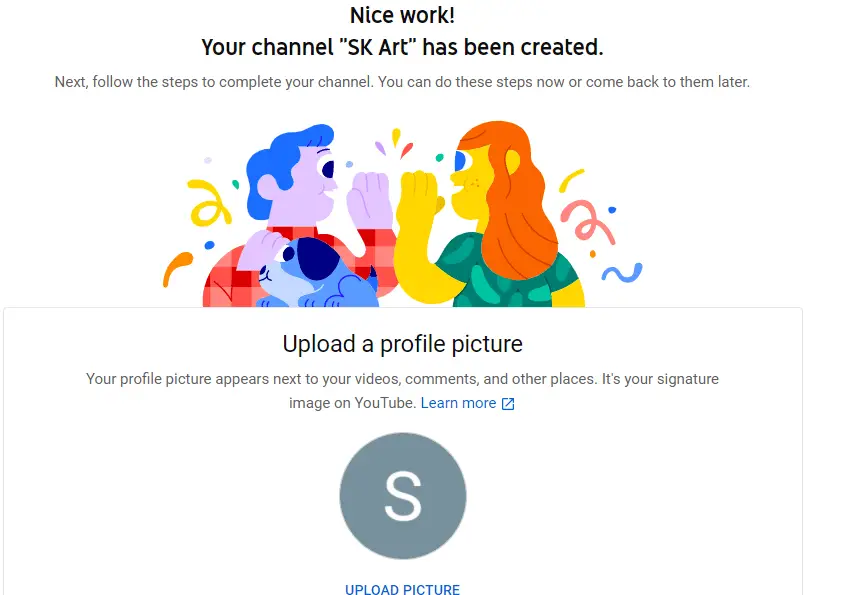 (Step 4) Add profile image and channel art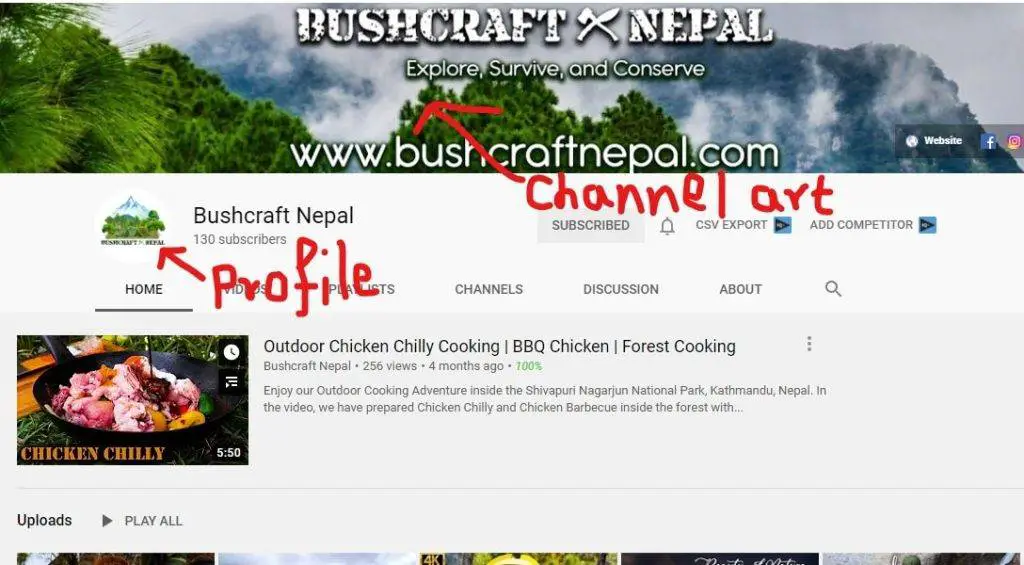 Profile image and channel art are the two major components for a YouTube channel. Viewers can get impressed with your profile and channel art image so, you need to upload appealing images that are relevant to the channel niche. You can upload your own photo if the channel represents you as the brand otherwise, you may use the logo of your company or any business-related images.
How to design YouTube Channel art perfectly?
Users can design their channel art with the use of various graphics software like Adobe Photoshop, Illustrator, Paint 3D, etc., or can make it online through channel art creation websites such as Canva, Fotor, Snappa, etc. Also, your YouTube Channel art or banner image must meet the following requirements:
Minimum dimension for upload is 2048 x 1152 px with an aspect ratio of 16:9.
For the minimum dimension, the safe area for text and logos is 1235 x 338 px. Larger images may get cropped on certain views or devices because YouTube is available on all digital devices.
Recommended File size is 6 MB or smaller.
How to make money on YouTube?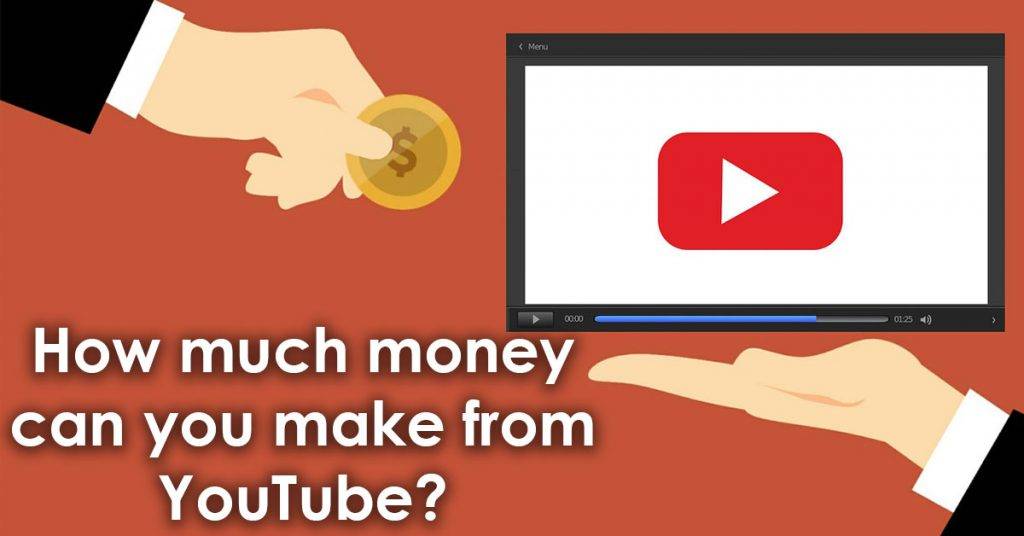 Making money on YouTube requires the production of valuable videos that drive lots of traffic and engage viewers. Channel owners can monetize their videos with advertisements and earn good revenue from YouTube however, they must fulfill some requirements to get approved for the monetization process. Besides advertisements, creators can earn money through super chat features, selling merchandise, paid promotion, and much more. If you have good traffic on your YouTube channel, there are lots of opportunities for generating revenue.
Requirements for getting approved for YouTube monetization are:
You channel must follow all YouTube monetization policies.
The YouTube monetization policies are a combination of various policies that allow you to monetize on YouTube. If you're a YouTube partner, your agreement including the YouTube partner program policies requires compliance with these monetization policies in order to potentially earn money on YouTube.
Your country or region must be available with the YouTube Partner Program.
Channel must obtain 4,000 valid public watch hours in the last 12 months.
It must also have more than 1,000 subscribers.
How much money do you make on YouTube?
The revenue from YouTube channel advertisement depends upon the channel niche. Some niches offer low cost per click whereas some offer relatively higher. Niches like making money online, finance, education, travel, etc. make more earning from advertisements. Besides, the country where the visitors are coming from also impacts the revenue. For instance, YouTube traffic coming from the United States provides more revenue than the traffic generated from India. Besides, there is no limitation on earning through super chat, selling merchandise, paid promotion, and so on.