Are you searching for the best email marketing companies in 2021 to grow your business? Does email marketing hold higher priority in your business model?
Email marketing is one of the effective marketing strategies to scale up your business and to succeed in this marketing you need to choose the right email marketing companies that provide reliable service.
In this article, we will explore the 10 best email marketing companies with their pricing that help you to generate more leads and grow business in 2021.
AWeber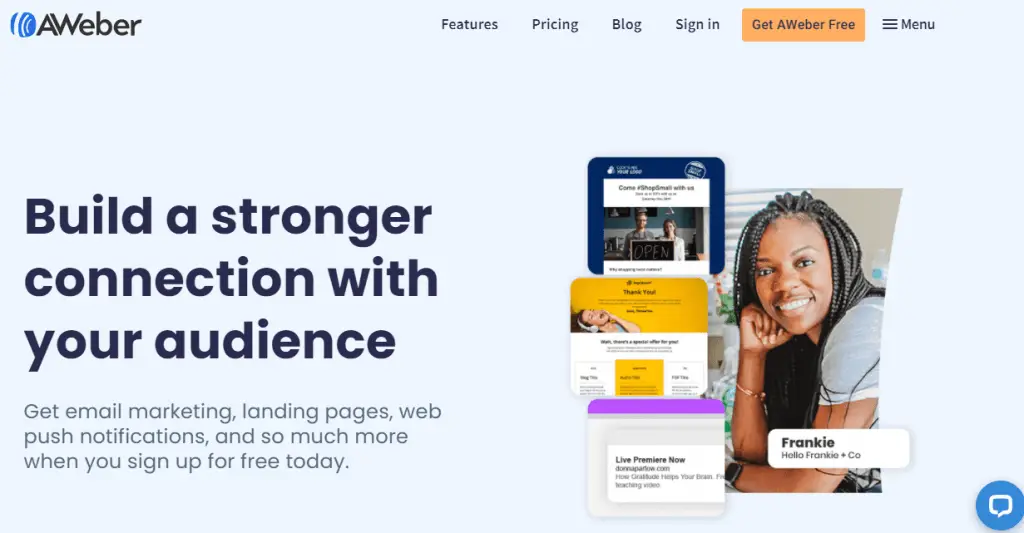 Aweber is one of the popular and oldest email marketing companies that offer a variety of tools for small and medium-sized businesses to organize their email marketing. This company allows you to connect seamlessly with almost every platform including WordPress. Users can get access to HTML email templates, email tracking, A/B split testing, list management, autoresponders, and much more.
AWeber also provides features like landing page builder and web push notifications. You can create your custom landing page using drag and drop builder, pre-stocked image library in no time, and get access to unlimited landing page templates. Besides, you can send instant time-sensitive messages to your reader even when they're not visiting your website currently. Other features include email automation, segmentation, AWeber Ecommerce, third-party integrations, and auto-newsletters.
AWeber provides support to its customers through live chat, emails, live webinars, phone support, and a library of tutorials. Customers can contact the company 24/7 to get answers to all Aweber email marketing and landing page questions.
AWeber Pricing Details
| | | |
| --- | --- | --- |
| Account Type | Subscribers Count | Pricing (Monthly) |
| Free | 0-500 | Free |
| Pro | 0-500 | $19 |
| Pro | 501-2500 | $29 |
| Pro | 2501-5000 | $49 |
| Pro | 5001-10,000 | $69 |
| Pro | 10,001-25,000 | $149 |
| Pro | 25,000+ | Contact AWeber |
Sendinblue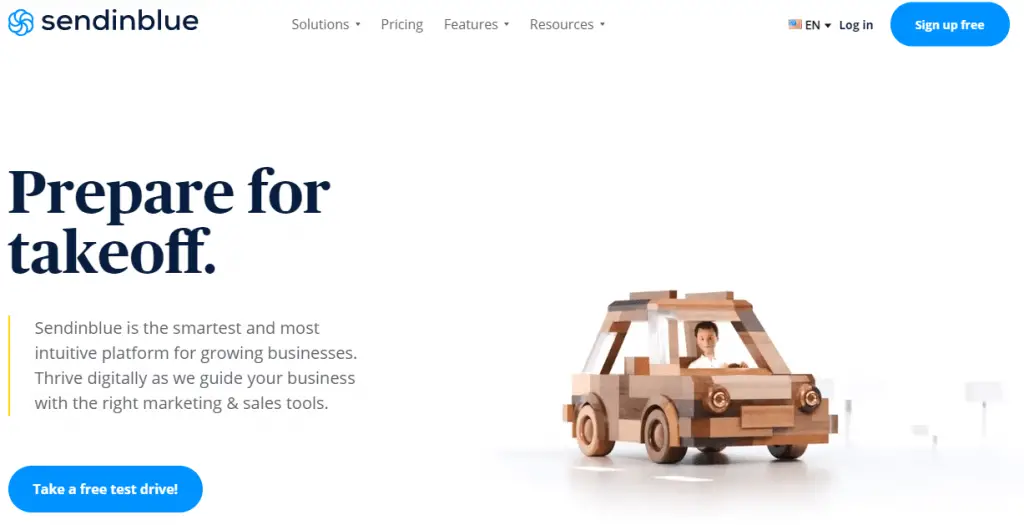 Sendinblue is a top contender if you are a beginner in your business and want to grow your email list along with sales. The features, support, and pricing are designed for small and medium-sized businesses. The company helps to manage email campaigns, text messages, email automation efficiently in your preferred language and the cost is reasonable too.
Sendinblue provides services including email marketing, SMS marketing, and chat feature. You can design appealing emails in no time and send them easily to your mail list. You can also communicate directly with clients for urgent messages or time-sensitive offers with the SMS marketing feature. Besides, you can chat with customers when they wish to ask questions while browsing your site.
Other features of Sendinblue include CRM, marketing automation, transaction email, segmentation, landing page designs, and signup forms. Users can even launch a Facebook ads campaign from their Sendinblue account to retarget contacts or reach new audiences in accordance with their email lists.
Sendinblue Pricing Details
| | | |
| --- | --- | --- |
| Account Type | Subscribers Count | Pricing (Monthly) |
| Free | Unlimited Contacts (300 emails per day) | Free |
| Lite | 10K-100K | $25-$99 |
| Premium | 20K-1000K | $65-$599 |
| Enterprise | 10,000K+ | Contact Sendinblue |
Mailchimp
Mailchimp is an all-in-one Marketing Platform especially favorable for small-size businesses. The company offers flexible and affordable email marketing service with their smart market technology, award-winning support, and encouraging content. As per Mailchimp, they help small businesses do big things with the right tools and guidance.
Mailchimp allows you to reach the right people, create better content, automate marketing campaigns, and take effective actions with the insights feature. The company provides 24/7 support to answer all your queries related to their services. You can connect all your tools to Mailchimp as it offers over 250 application integrations. One of the important features is that you can bring your audience data, marketing channels, and insights together, all from a single platform to reach your goals faster.
Mailchimp Pricing Details
| | | |
| --- | --- | --- |
| Account Type | Subscribers Count | Pricing (Monthly) |
| Free | 2000 contacts (10K sends per month) | Free |
| Essentials | Upto 50K contacts | Starting Price $9.99 |
| Standard | Upto 100K contacts | Starting Price $14.99 |
| Premium | 200K+ contacts | Starting Price $299 |
Drip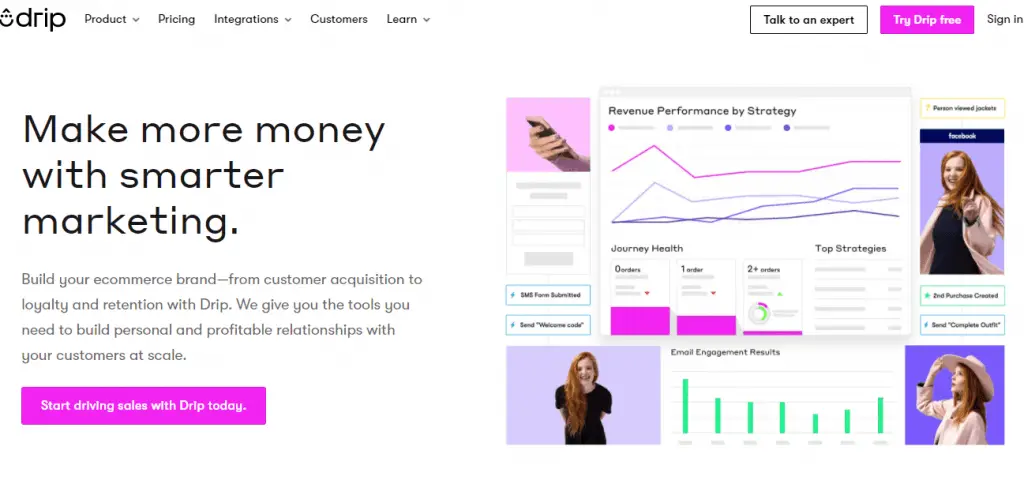 Drip is a new marketing platform that primarily offers email marketing for eCommerce businesses. You can build your eCommerce brand from customer acquisition to loyalty and retention with the useful tools provided by Drip. As per the latest report, Drip has helped eCommerce business owners generate over $1 billion in attributed revenue.
You can grow your email list by attracting more customers with high-converting forms, lead ads, and welcome emails. The email sending process is made easier and productive with increased engagement, A/B split testing, optimization, and audience segmentation. Besides, you can track valuable insights related to buyers' intent and their purchase behavior.
Drip Pricing Details
The price of the Drip email marketing service depends upon the number of contact lists.
GetResponse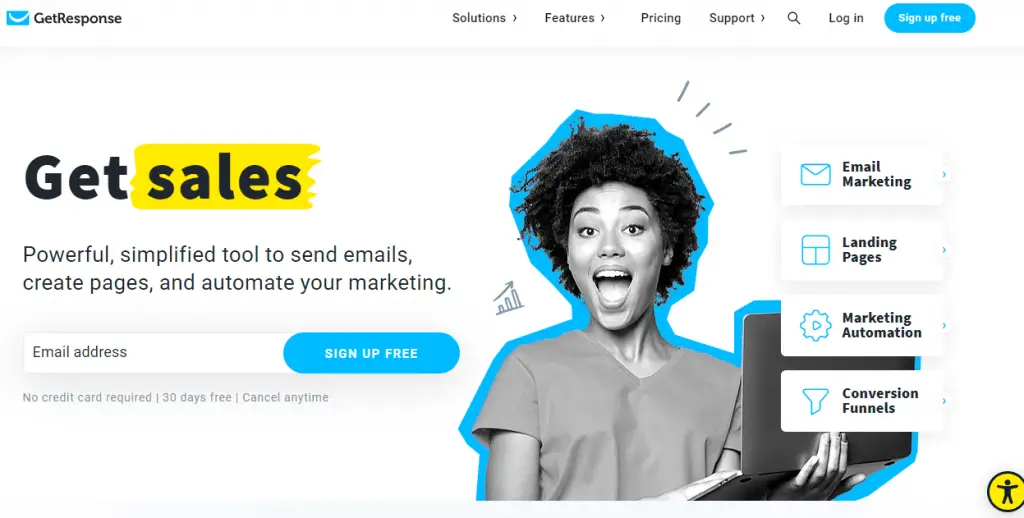 GetResponse is known as the easiest email marketing platform serving over 350,000 customers in 183 countries. The company holds 15 glorious years of experience and is now available in 27 different languages. It helps businesses and entrepreneurs to deliver excellent online marketing solutions and grow businesses. The tools and techniques of GetResponse are designed to implement effective and high-impact campaigns that enhance marketing ROI (Return on Investment).
You can build targeted subscriber lists and deliver influencing newsletters, video emails, follow-up campaigns, and much more. Moreover, the company offers features including responsive email design, easy-to-use templates, landing page designer, statistical analysis tools, image editor, forms, webinars, perfect timing, and marketing automation. As per the company, they offer a spam-free solution that scales deliverability rates up to 99%.
GetResponse Pricing Details
| | | |
| --- | --- | --- |
| Account Type | Subscribers Count | Pricing (Monthly) |
| Basic | 1K-100K | $15-$450 |
| Plus | 1K-100K | $49-$499 |
| Professional | 1K-100K | $99-$580 |
| Max | 100K+ | Contact GetResponse |
Constant Contact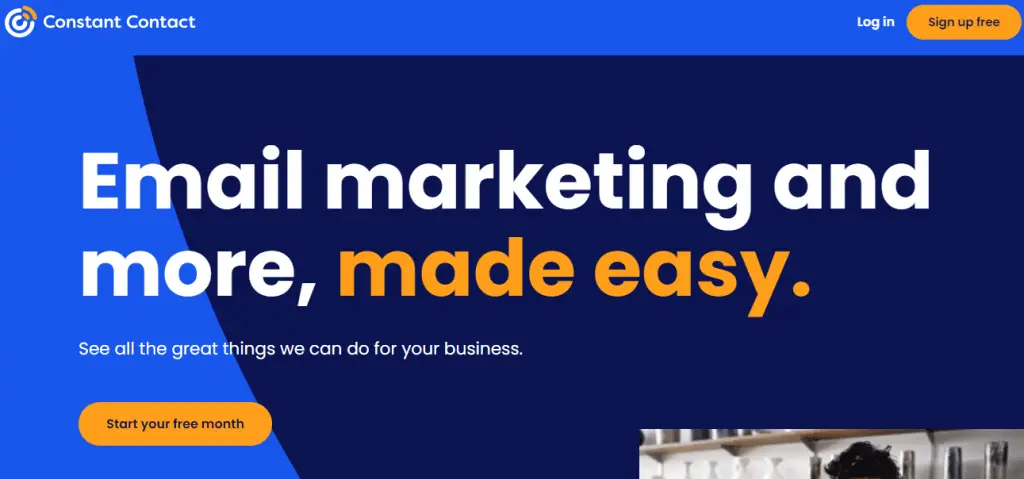 Constant Contact provides an email marketing service with tools that make it easy to stand out while you get the word out. You can use their free Email Template Builder or pick hundreds of mobile-optimized templates for all email marketing requirements. Constant Contact provides easy-to-use editing tools to design your emails. Also, you can track the success rate of your email marketing campaigns with real-time reporting and robust analytics.
Constant Contact email marketing automation helps you increase sales by keeping clients engaged and building trust. In addition, you get features to create surveys, polls, donations, signup forms, and various events. It also provides powerful list-building and tracking tools to see who's opening, clicking and sharing your emails.
Constant Contact Pricing Details
| | |
| --- | --- |
| Account Type | Pricing (Monthly) |
| Email | Starting from $20 |
| Email Plus | Starting from $45 |
ConvertKit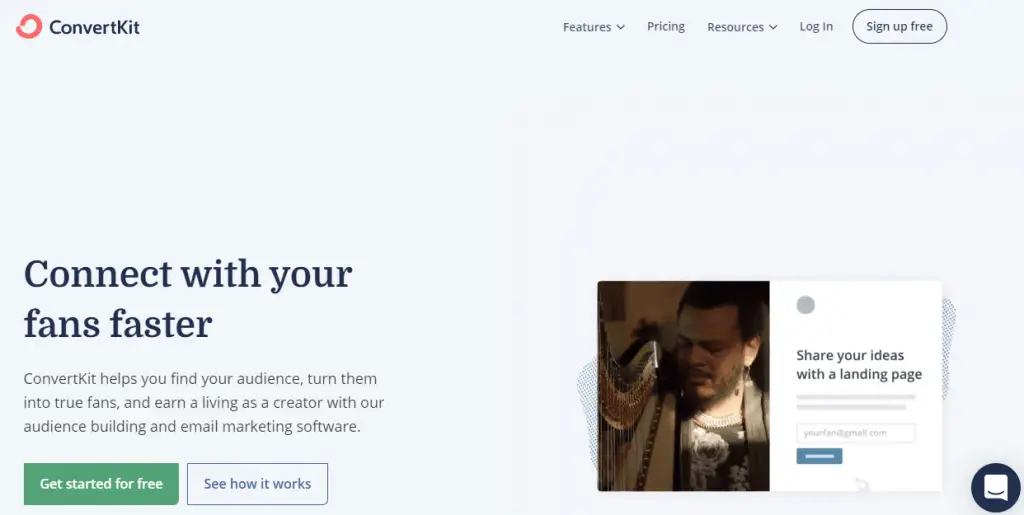 ConvertKit is one of the best email marketing companies that helps your search your audience/clients, turn them into true fans and generate revenue. The company requests their customers to spend less time on marketing and more on creating as it allows you to grow your audience, connect with true fans, and earn revenue by selling digital products, and services online.
You can share your ideas with a custom landing page that can be designed in some minutes. Also, you can offer your visitors with free automatic download in exchange for email addresses via an opt-in form and landing page. Besides, Convertkit allows its users to send personalized content to their audience, automates the sales funnel, and allows building email designs with easy email templates. Some other features include email signup forms, email automation, creator pro, and app integrations.
ConverKit Pricing Details
| | | |
| --- | --- | --- |
| Account Type | Subscribers Count | Pricing (Monthly) |
| Free | 1000 | Free |
| Creator | 1K-400K | $29-$2,299 |
| Creator Pro | 1K-400K | $59-$2,599 |
| Unlimited | 400K+ | Contact Convertkit |
ActiveCampaign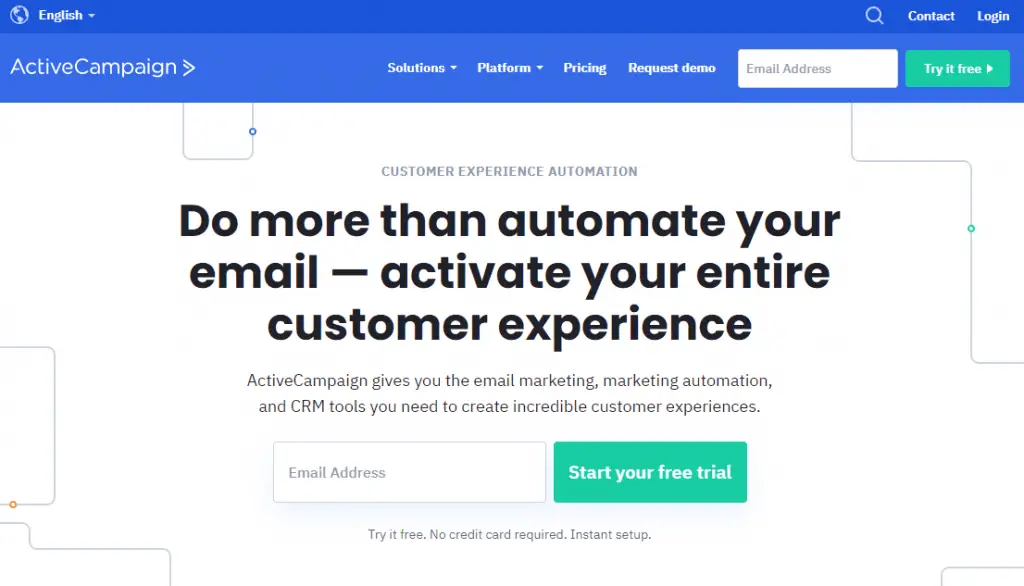 The main motive of ActiveCampaign is to provide growing businesses with the effective tools to compete with larger companies. The company provides a personalized, and automation-first approach that helps its team to provide relentless and reliable service to the clients. Email marketing campaigns can be executed with hundreds of automation recipes, tools, and templates.
The advanced segmentation and dynamic automation feature save you valuable time. ActiveCampaign uses a world-class machine learning strategy to increase the success rate of your email marketing campaign. It also offers free migration services and multiple training options to get you started fast. In addition, you can create personalized follow-ups, recover lost income, react to behavior in real-time, easily manage sales processes, and better understand customers.
ActiveCampaign Pricing Details
| | | |
| --- | --- | --- |
| Account Type | Subscribers Count | Pricing (Monthly) |
| Lite | 500-100K | $9-$405 |
| Plus | 500-100K | Starting from $49 |
| Professional | 500-100K | Starting from $129 |
| Enterprise | 500-100K | Starting from $229 |
| Unlimited | 100K+ | Contact ActiveCampaign |
MailerLite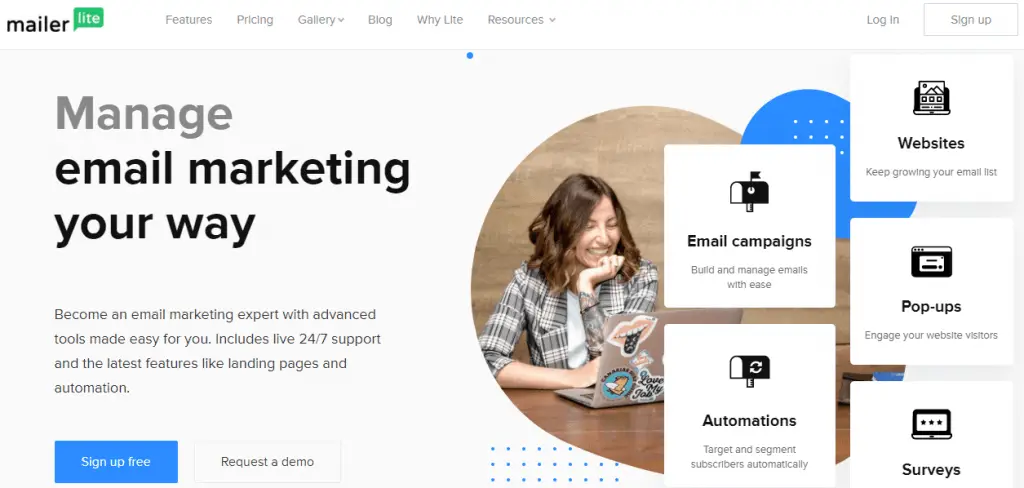 MailerLite is also an important email marketing service provider that offers advanced and easy tools to excel in email marketing campaigns. You can easily build email campaigns, pop-ups, surveys, automation with MailerLite. It also allows you to easily connect your MailerLite account to other web services like WooCommerce, Shopify, PayPal, Stripe, Zapier, and leverage your email marketing campaign.
MailerLite also allows creating pop-ups, landing pages, surveys, and signup forms. Besides, users can manage CRM with HubSpot, Zoho CRM, Salesflare, Intercom, Pipedrive, Zapier, and much more. Drag and Drop editor makes it easy for you to create attractive email newsletter designs.
MailerLite Pricing Details
| | | |
| --- | --- | --- |
| Account Type | Subscribers Count | Pricing (Monthly) |
| Free | 1000 (12,000 emails/month) | Free |
| Unlimited | 1000 | $10 |
| Unlimited | 1001-600K | $15-$1915 |
| Unlimited | 600K+ | Contact MailerLite |
HubSpot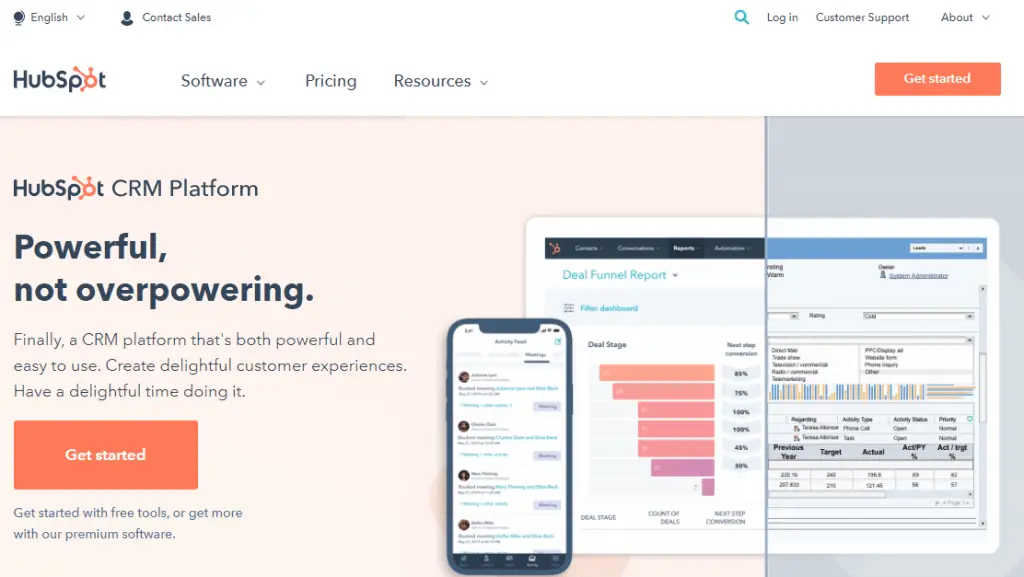 HubSpot is famous for email marketing automation as it provides powerful tools to create, personalize, and optimize your emails with ease. Among various hubs of the HubSpot, the Marketing Hub allows users to grow traffic, convert more visitors, and execute complete inbound marketing campaigns at scale. The popular features of HubSpot marketing hub include lead generation, marketing automation, analytics, forms, landing pages, contact management, live chat, traffic and conversion analytics, Facebook, Instagram, Google, and LinkedIn ads.
HubSpot also offers an effective A/B split-testing tool that you can use to analyze your emails and see why and which performed better. You can begin with free tools and upgrade as you grow with the HubSpot Marketing Hub.
HubSpot Pricing Details
| | | |
| --- | --- | --- |
| Account Type | Subscribers Count | Pricing (Monthly) |
| Starter | Starts at 1000 | Starts at $45 |
| Professional | Starts at 2000 | Starts at $800 |
| Enterprise | Starts at 10,000 | Starts at $3200 |