A website becomes successful only if it gets ample traffic from various sources. We can increase sales, ad revenue, brand awareness, value with a huge amount of traffic on our website. But the question here is how to increase website traffic for free in 2023 as there are lots of strategies that are paid as well as free.
Generating traffic through paid promotion requires you to spend a considerable amount so, it may be somewhat difficult for beginners with a low budget. But don't worry because there are lots of free methods to generate traffic.
In this article, we will explore how to increase website traffic for free in 2023 which boosts our revenue, sales, and overall online business.
Search Engine Optimization (SEO)
Search Engine Optimization (SEO) is the major factor for driving free traffic to your site because it generates huge organic traffic if you work correctly and smartly. SEO is all about ranking your site content in the top list of the Search Engine Result Page (SERP) of popular search engines like Google, Bing, Yandex, and so on. What does it take to excel on SEO?
If your site is new, it will be a little difficult to rank on the first page of SERPs but it is not impossible. While creating content for a site, you must focus on low competitive long-tail keywords that hold good search volume (more than 1000 per month). After finalizing such keywords, you must create a high-quality and valuable article so that, readers can get benefitted.
Those who wish to succeed in SEO must master the two aspects known as On-Page SEO and Off-Page SEO. On-Page SEO refers to optimizing all the web pages, posts in order to rank higher and generate more relevant traffic in search engines. Both content and technical part of the website can be optimized through On-Page SEO techniques. Off-Page SEO is just the opposite of On-Page SEO because it doesn't happen directly in your website instead other external sources affect it like link building, social media, local SEO, brand mentions, guest posting, and much more.
Traffic Bombing or Content Syndication Method
Traffic Bombing or Content Syndication is one of the most effective and free strategies to increase free traffic to your site. This method is all about broadcasting your content to multiple websites, content-sharing platforms, and getting traffic back to your site. There are lots of high-quality, high-traffic websites that allow you to share content and link back to your site for free.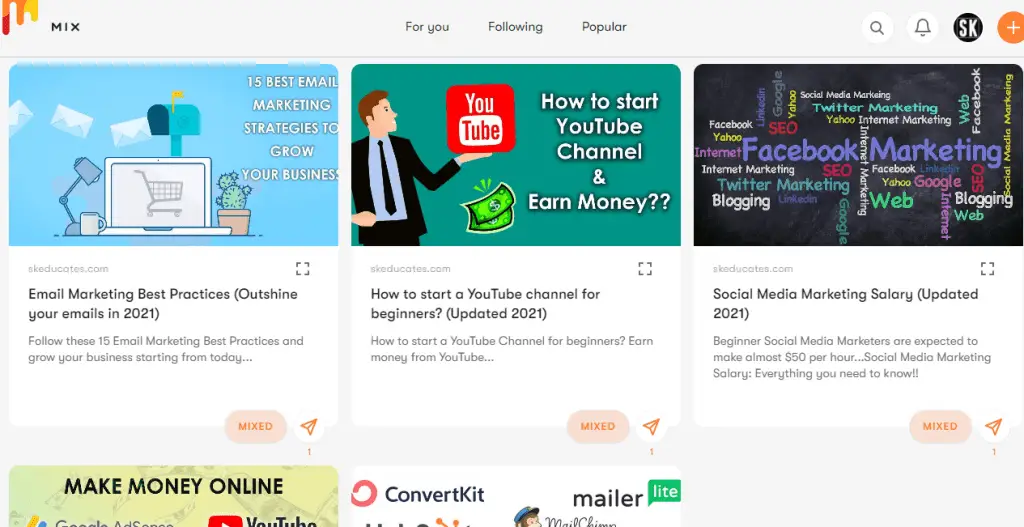 Some famous websites allowing content syndication are Medium, Mix, Reddit, Tumblr, LinkedIn, Quora Spaces, Ezine Articles, and much more. You can easily create a free account on these platforms and share your website content for free. So, why not take benefit if it's free. The websites mentioned above generate huge traffic worldwide and your shared content can get ample views. Besides, it may get ranked in search engines. For instance, the content sharing platform called Medium gets over 200 million monthly traffic and you can imagine how much traffic you can get if your content gets ranked on this site.
Pinterest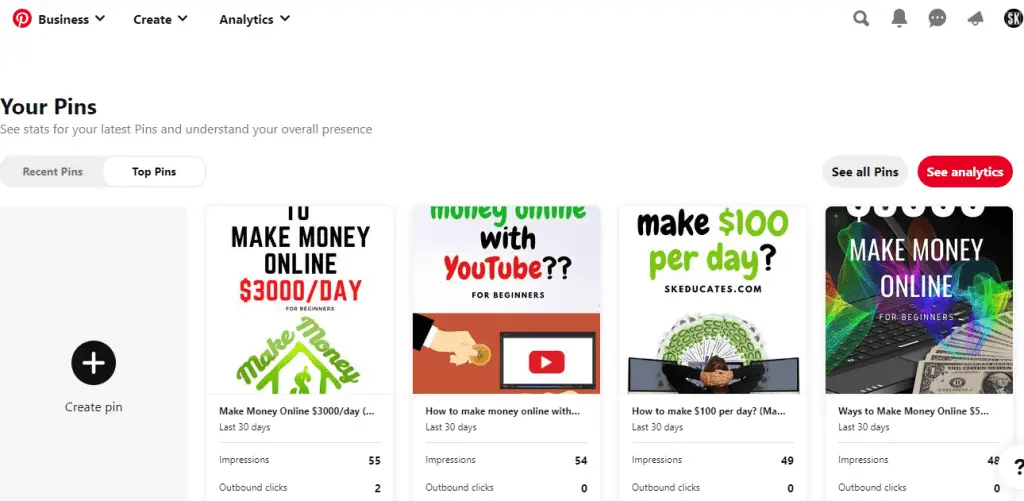 Pinterest is another free platform that allows you to share graphics-related content and link back to your site. You need to create appealing pins in this platform and optimize them to get views and impressions. Many beginner bloggers have generated over 40,000 traffic monthly within a couple of months with the effective use of the Pinterest platform.
Pinterest gets over 600 million visual searches per month.
While creating pins, you need to be careful on many aspects like graphic designs, image SEO, texts, title, descriptions, and hashtags. The pins you created must be attractive enough to captivate the viewers and compel them to click your website link.
Social Media
The Social Media platform is another vital factor for driving traffic to your site. There are lots of users in popular social media applications like Facebook, Instagram, Twitter, Tumblr, etc. You can share your content on these platforms by creating groups, interacting with others' groups, creating pages, and provide value to the readers. This in turn increases traffic to your website but be sure your content is authentic.
Talking about Facebook, you can create a Facebook page for your website, start increasing followers, and share your website content. Also, you can join the various groups or create one as per your niche and interact with the audience. Likewise, you can create appealing images, graphics, and post them on Instagram.
Make sure your website appearance is present in almost all available social media platforms.
Q/A and Forum Sites
Questions Answers and forum sites are a huge source of free traffic for your site if you work out correctly. Q/A sites like Quora and Forum Sites like Warrior Forum allow you to interact with a huge number of audiences and share your content along with the relevant link.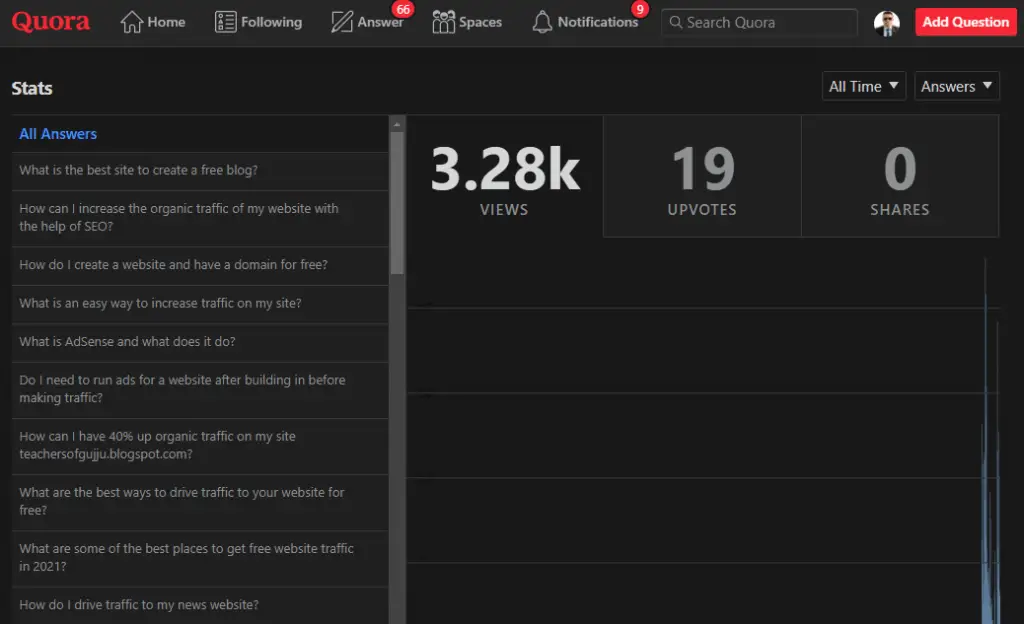 In Quora, you can ask questions and reply to others' questions with valuable answers. You can get traffic back to your site if you link it in the answer section however, you need to be careful because Quora may ban you in case of spamming. That's why you must first create a good impression by interacting with questions and answers, get some views, likes, shares, and then only attach links to your site.
Likewise, you can interact with users on forum sites by replying to their questions with helpful answers and get traffic back to your site. There are lots of other Q/A sites like Answers.com, Reddit, Yahoo Answers, and so on from where you can generate significant traffic to your site but always make sure you are not spamming on these platforms.
Email Marketing
No other marketing strategies are much important as email marketing is. Many digital marketing techniques come and go but email marketing remains most important to date and will be most required in the coming days also. If you are not executing email marketing campaigns, you are losing lots of traffic.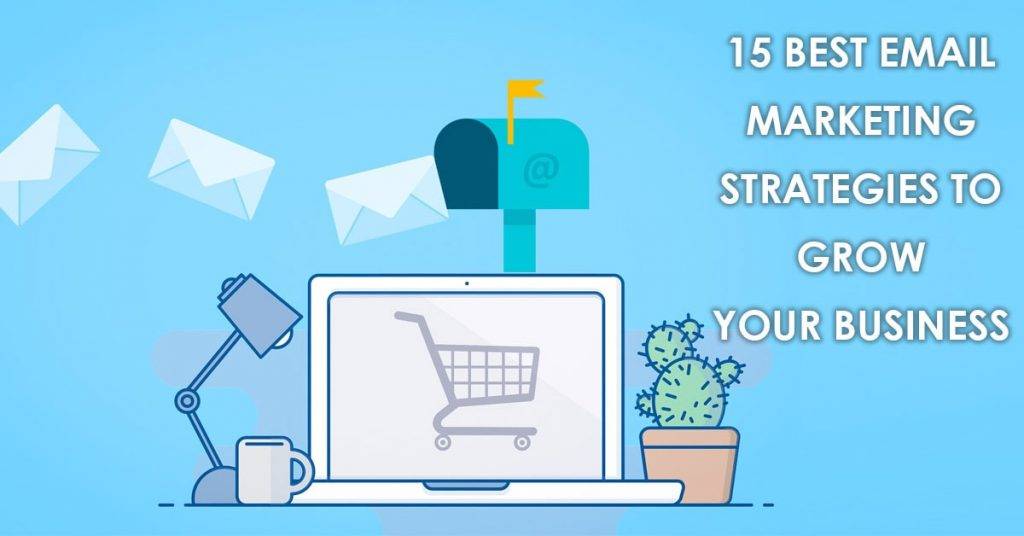 As per the latest case study, email marketing remains the most effective method for generating traffic, increasing sales and revenue. So, you must start email campaigns from today and never miss the opportunity to generate ample traffic.
If you are a beginner and don't have a budget to spend on email marketing, you have a chance of running email marketing campaigns for free. (Find out top email marketing services where you can start for free here…)
To succeed in email marketing campaigns and generate more leads, you need to follow these awesome techniques.
Cross-linking or Cross-promotion
Cross-linking or cross-promotion means getting referral traffic to your website from other high traffic sites. If you are running other sites that hold high traffic then you can link back to your new site and get referral traffic. Besides, you can request your friend, relatives, or others who own a high-traffic website to link back to your site. Cross-linking can be created with banner ads, links in the content section, footer section, or with menus.
A proper online ecosystem can be created for your various online business platform by cross-promotion. When you succeed in one website, you can get fast traffic to your other websites.
Push Notifications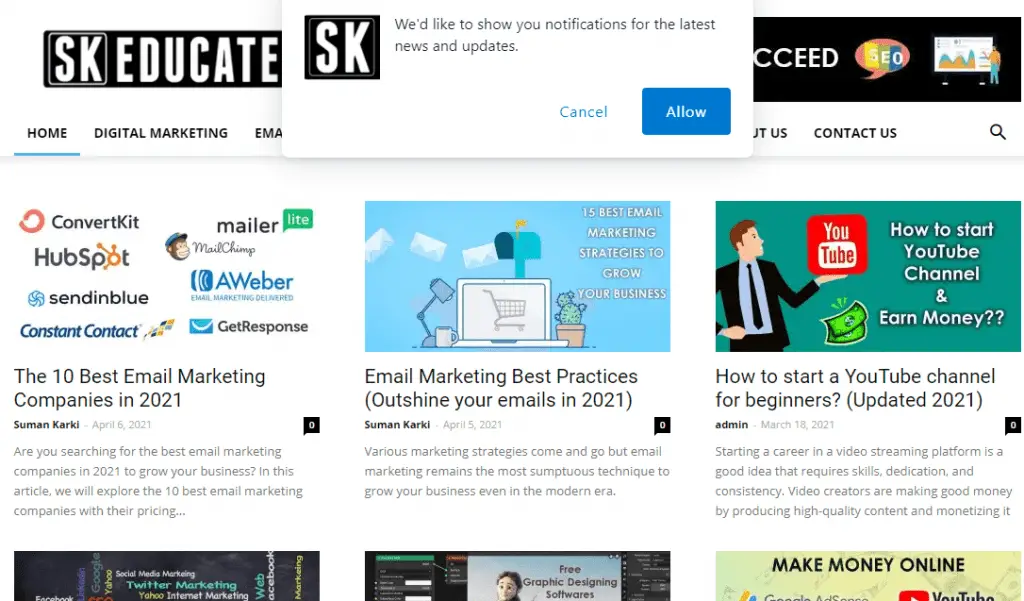 Web push notifications allow your website to re-engage with the readers through notifications after you publish new content. The push notification feature allows users to either allow or reject notifications from your site on their mobile devices, laptops, or any other digital devices.
Push notifications can be created with applications like OneSignal, PushAlert, SendPulse, etc. and you can integrate them for free on your website. Signup on any of these platforms today and increase the chance of returning audiences to your website. Setting up the push notification feature on your website is not that complex, just follow the steps mentioned in the application you choose.
Share Free E-books, Use Slideshare
You can create free valuable e-books and share them over the various platforms so that, users can get help from you. To drive traffic back to your site, you can attach website links in the free e-book section. Just make sure the E-Book you create is authentic, well-written, and helpful to your readers. You can promote your E-books via email marketing, Q&A sites, forum sites, and other relevant sites.
Also, you can publish your valuable content on SlideShare which allows you to discover, share, and present presentations, and infographics completely for free. You can get traffic back to your site by including links in your presentations and infographics.
Guest Posting
Guest Posting, also known as Guest Blogging, refers to writing content for other websites with the intent to get traffic back to your own website. There are lots of websites allowing guest posts with links to your website. Doing so boosts your website's domain authority and increases quality backlinks.
Guest posting is simple as it means posting on other persons' sites as a guest and in return getting an external backlink to your site as well as traffic.
Make sure you find out authentic site with high traffic before writing a guest post otherwise, you won't get traffic, and the backlink created will be useless.
YouTube
YouTube is a free video-sharing platform that allows you to publish videos easily and increase your audience. It is one of the most popular sites on the web today with visitors engaging in over 6 billion hours of video every month. Just imagine how much traffic YouTube generates!
You can become a part of YouTube completely for free and gain lots of viewers but you must create quality video content in accordance with your niche and users' search intent. Free referral traffic can be generated to your website via YouTube Channel as you can link your website in the channel art and descriptions of every video you publish. Also, you can inform viewers about your website directly through video content.