Are you looking to make extra money through your blog or YouTube channel? Monetizing your blog via advertising platforms like Mediavine, Ezoic generates good revenue however, you can earn more if you join the best affiliate marketing programs.
Affiliate Marketing is all about finding affiliate product, getting affiliate links, promoting it, getting conversions, and finally earning commissions.
You need to decide on some prerequisites to begin an affiliate marketing campaign. After getting ready for it, you require affiliate programs as per your niche and join them for running affiliate campaigns. Before joining affiliate marketing programs, you need to consider the following things:
Approval Requirements
You need to check the approval requirements of various affiliate marketing programs because some of them requires your site to be professional, well-established, or have a good amount of traffic.
Selection of Products and Services
You need to verify whether the affiliate program you are preferring suits your niche and product idea.
Commission Rates
Commission varies according to your niche and product selection. Not only that, it differs as per the affiliate networks you choose.
Hidden Fees
Some affiliate marketing programs charge fees for setting up affiliate platform in your site and also for training.
Now, let's explore top affiliate marketing programs you can join to increase your revenue.
ClickBank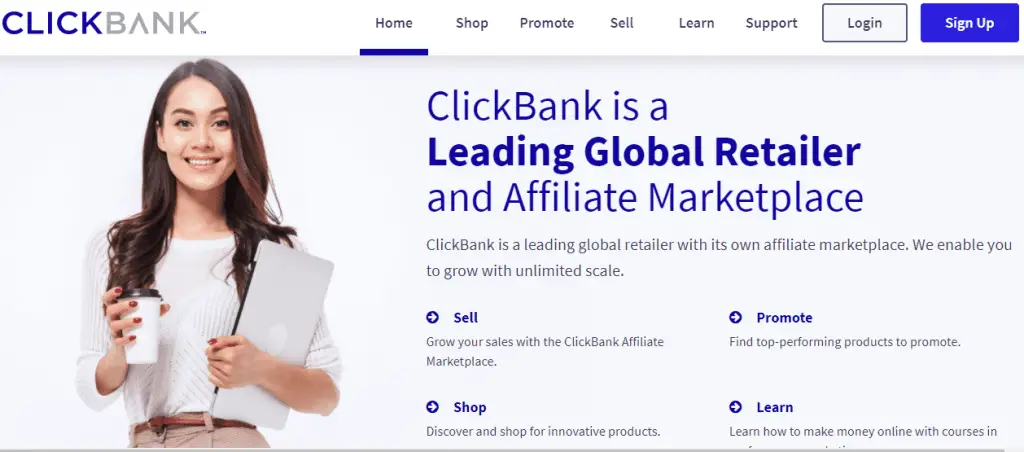 ClickBank is one of the popular affiliate marketing programs that sell physical and digital products. This network has expanded its business to join the top 100 internet retailers and leaders in the digital e-commerce list.
ClickBank works intensively on ensuring appropriate and quality products to sell with its strict guidelines. At the time of writing, more than 30,000 purchases are made daily in over 200 countries with 4,000+ marketplace products and over $4.2 billion commissions paid.
Whether you are an expert in affiliate marketing or just beginning your affiliate career, there's never a bad moment to join and get started with ClickBank.
Features
You can get commissions as high as 90% as the network specializes in quality marketing
ClickBank dispatches timely payment to your affiliate earnings.
You will always get credit for your sales with the implementation of ClickBank's HOPLINK tracking system.
You can also promote automatic upsell offers.
There is also a chance for earning recurring commissions as ClickBank offers products with subscription options.
You get an opportunity to interact and make connections with leading affiliate marketers around the globe.
Payment Options
CJ Affiliate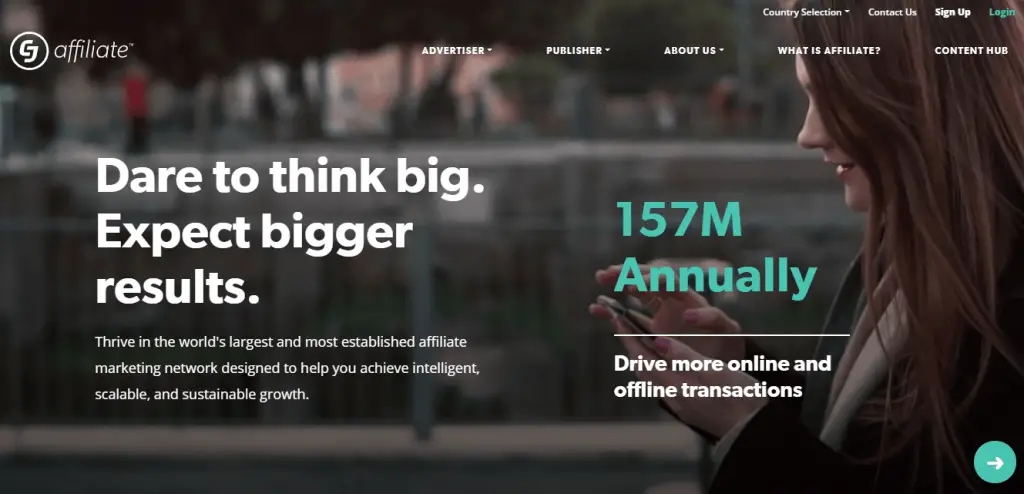 CJ Affiliate formerly known as Commissions Junction holds over 20 years of professional experience in the affiliate marketing industry. This network is trusted by the world's largest brands including IHG, Overstock, Priceline, Office Depot, Barnes & Noble, and much more.
CJ Affiliate Network allows you to partner with the world's best brands and earn commissions by successfully promoting their products/services. It connects merchants with over 14 billion audiences yearly and helps affiliate marketers to generate revenue of more than $2 billion every year.
Features
Approval process is pretty fast
Commission rate varies by merchant
Offers real-time transaction monitoring
Payment Options
Rakuten Advertising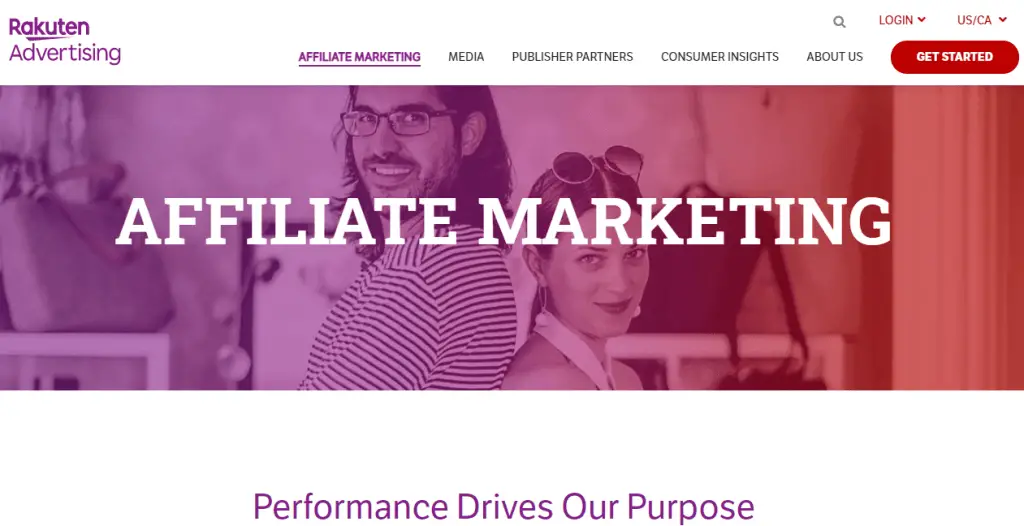 Rakuten Advertising also holds 20 years of affiliate marketing experience and is continuing to provide award-winning solutions to publishers and advertisers. You can join the network if you are a blogger, influencer, app developer and earn revenue through affiliate marketing campaigns.
Rakuten Affiliate Program allows your reach and growth across the US, Brazil, Europe, Canada, and APAC. It specializes in driving actual results through its valuable ecosystem that represents quality, quantity, and diversity.
Features
Commission depends upon merchants
Provides features like Dynamic Commissioning, Coupon Commissioning, and multi-touch commissioning
Provides technologies like publisher dashboard, placement marketplace, matchmaking, mobile app tracking, consumer graph and much more
Provides dynamic commissioning
Payment Options
Amazon Associates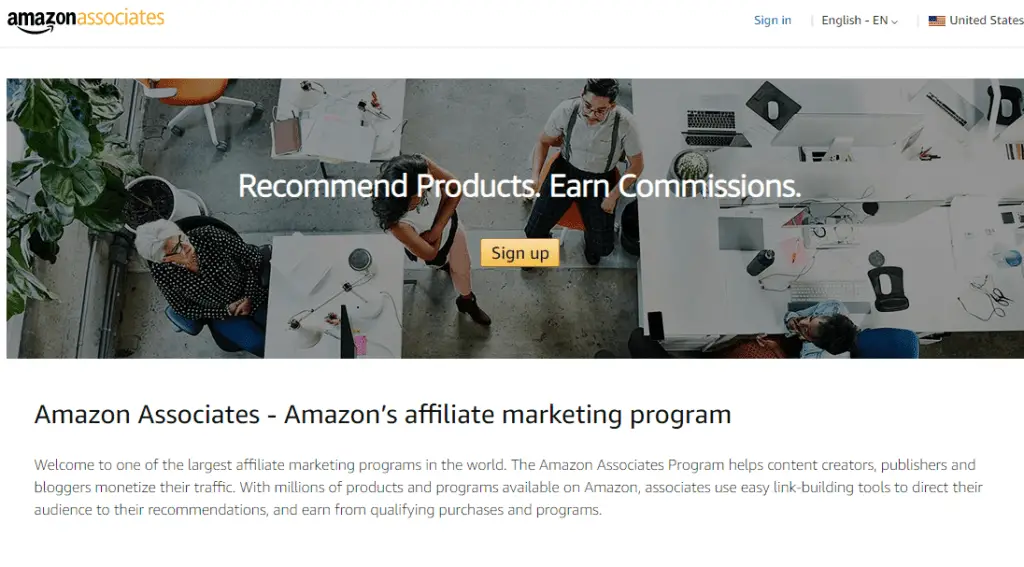 Amazon Associates is one of the largest affiliate marketing programs in the world that helps content creators, bloggers, vloggers monetize their traffic. It allows publishers to choose from millions of products, programs, services and earn commissions from qualifying purchases and programs.
You can promote products and available programs on Amazon with your viewers via customized linking tools and earn money after the customer purchases them. Also, revenue can be generated through customer actions like signing up for a free trial program and so on.
Publishers, bloggers, content creators can join the Amazon Associates affiliate marketing program if they own a qualifying website or mobile application.
Features
You can earn commissions up to 10% in associate commissions from qualifying purchases and programs
Provides tools and data to make quick content decisions and grow revenue
Your earnings can scale up internationally with the Amazon Associates' global audience
Payment Options
International Bank Transfer
Avangate Affiliate Network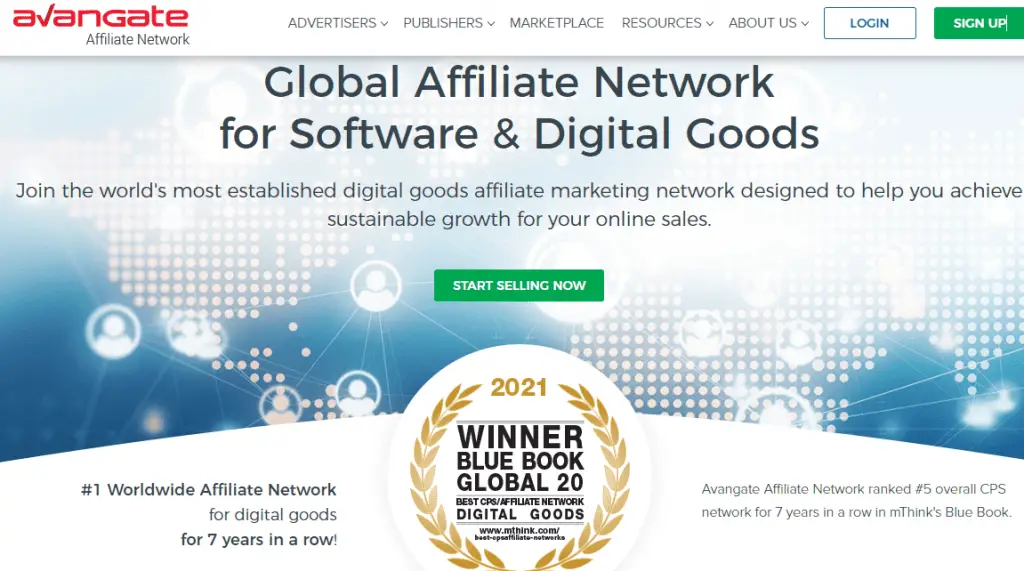 Avangate Affiliate Network is known as the world's most established digital goods affiliate marketing network trusted by top merchants including Bitdefender, Malwarebytes, Kaspersky, Movavi, IObit, AVS5YOU, and many others.
This affiliate network has been ranked as the top WorldWIde Affiliate Network by Blue Book Global for the past seven years.
Features
The commission starts at 25% and reaches up to 85% for some merchants
Allows you to create affiliate links that go directly to the product checkout page for higher conversion rate
Offers flexible payment methods
Provides extensive reports on your affiliate activities like clicks, sales, earnings per click, refunds, and conversion rates.
Allows you to use geo-targeted shopping cart to increase conversion rate
You get 24/7 dedicated support from a real person on affiliate topic via email
Payment Options
FlexOffers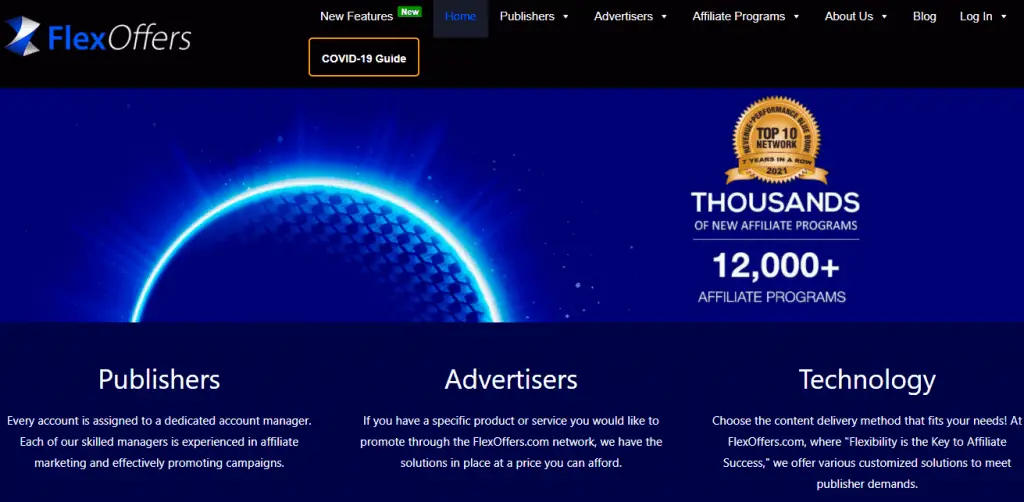 FlexOffers is an award-winning affiliate marketing platform that provides quality marketing services and solutions to both advertisers and publishers. You get access to millions of products, services with over 12,000 affiliate programs and promote them with content feeds, text links, and other options.
FlexOffers offer access to a massive range of products like education, health, electronics, accessories, clothing, and much more.
Features
Commission rate varies by merchant
You get help from an assigned dedicated affiliate account manager
You will have access to APIs, FTP and other tech services
You can refer as many publishers as possible and earn up to 50% through FlexRev-$share program
Payment Options
Awin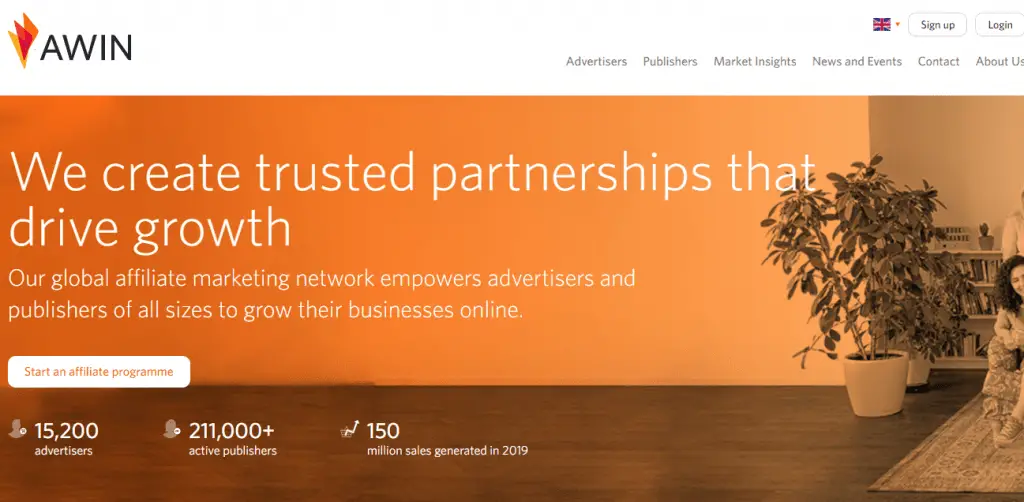 Awin is a global affiliate marketing network that features over 15,000 advertisers, 211,000+ active publishers, and over 150 million sales generated yearly. This affiliate network owns several other affiliate programs including ShareASale.
With Awin, you can promote products, services from a wide range of popular merchants including UnderArmour, AliExpress, StubHub, Hyatt, and others. Awin helped to generate £9.65 billion revenue for its clients in 2019 alone and it's worth noting.
Features
Commission rate varies by merchant (Average is 5%)
Offers diverse network with global reach
Provides specialist account management team
Provides user-friendly and easy-to-use platform
Payment Options
CONCLUSION
Affiliate Marketing is a huge source of revenue for your online business. To succeed in this marketing, you need to first create a high-quality website, a blog with valuable content, and drive traffic. After receiving significant traffic on your blogs, and content you can apply for the best affiliate marketing programs, start promoting the millions of products, services worldwide, and earn commissions.